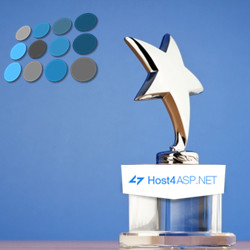 Offering reliable and affordable nopCommerce service, Host4ASP.NET is recommended as the best web hosting provider by the official site of nopCommerce.
Chicago, IL (PRWEB) March 12, 2015
Host4ASP.NET is one of the best ASP.NET web hosting companies. Recently, it is recommended as the best hosting provider by the official site of nopCommerce.
This web host has 3 ASP.NET hosting packages with different prices and features. The original price starts from $4.95/mo, but people who make an order by clicking this exclusive link are able to drop the price down to $2.95/mo.
Developed with ASP.NET in mind, each Host4ASP.NET hosting plan is featured with the latest Microsoft technology, including Windows Server 2012 R2, IIS 8.5, .NET 4.5, MVC 5, Silverlight 5, etc. Therefore, each of the solutions is fully adhering to all nopCommerce hosting system requirements.
Besides, an easy-to-use WebSitePanel integrated with a 1-click nopCommerce installer is included, making software installation and site management time and energy saving.
Host4ASP.NET utilizes 2 state-of-the-art data centers that are equipped with 100+ brand-new Dell servers with SSD/RAID5, 32 GB memory and 24 CPU cores. Moreover, they also adopt UPS power backup, BGP technology, multi-layer network service and many other cutting-edge technologies to offer better hosting performance. Also, their technicians are monitoring the data centers, servers and network 24x7 to deal with any sudden issue immediately.
In terms of customer service, Host4ASP.NET technical support staffs are standing by 24x7 to answer questions and provide assistance via live chat and email.The entire staff knows ASP.NET and nopCommerce very well, so they are capable of helping customers solve any nopCommerce hosting issue efficiently. Besides, their technicians have developed many detailed tutorials in their knowledgebase, with which people are able to learn more about hosting and find the answers to the resolve the common issues.
To learn more about Host4ASP.NET hosting service and lower the prices, visit https://host4asp.net/.
About Host4ASP.NET
Host4ASP.NET is a fast-growing web host dedicated to offering ASP.NET hosting service, having been awarded as the best ASP.NET hosting provider by many professional review sites. Up to now, this company is powering tens of thousands of websites around the world.