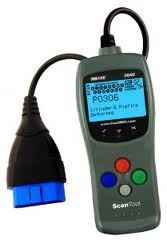 Auto scan tools are one way that could reduce the price of auto repairs for any motor vehicle.
Denver, CO (PRWEB) August 19, 2013
On-board diagnostic scanners and programs have been used by mechanics for more than two decades to diagnose automobile problems. The Got Engines company sells replacement engines that are inserted into used vehicles and is now reviewing popular scan tools for consumers. A best OBD1 scanner reviews guide is now published online at http://www.gotengines.com/blog/reviews/obdii-scanner-reviews-obd-2-scanner-diagnostic-code-reader .
This new guide examines the OBD1 and OBD2 scanners that are in use by many consumers to locate issues with modules and other parts installed in vehicles. This company has examined many of the top brands that can be purchased through retailers online.
"Auto scan tools are one way that could reduce the price of auto repairs for any motor vehicle," said a reviewer for the Got Engines company. Vehicle diagnostics completed by a professional mechanic can cost hundreds or even thousands of dollars to define a problem.
The OBD1 scanners and OBD II counterparts that are now reviewed range in price from $10 to $299 for higher end units. The functions of each unit as well as the requirement of diagnostic software is examined inside the review. Immediate links to third party retailers are provided to help car owners take advantage of discovered incentives online.
"The digital technologies that are now used by manufacturers have lowered the cost for owning an automotive scanner to detect vehicle problems," the reviewer added. Price incentives and shipping discounts that are included in the review are based on current offerings by retailers.
Car owners can still continue to purchase used engines directly from the Got Engines company online. New inventory has recently been added and announced apart from the series of reviews that are now used to educate consumers. The toll-free number at 1-866-320-1065 remains active as a national support line.
About GotEngines.com
The GotEngines.com company provides instant access to pricing details and other information from its website online. This company retails engines that are previously owned and sourced through top distribution agencies in the U.S. Hundreds of different engine types are required by this company on a monthly basis to sell and ship units directly to buyers. The GotEngines.com website now features intelligent quotation systems designed for automotive use to shorten any research or price inquiries that are made by automotive owners, mechanics or body shops nationwide.