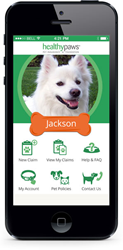 Healthy Paws offers the best pet insurance plan including unlimited lifetime benefits and paperless claims
Bellevue, WA (PRWEB) June 29, 2015
CanineJournal.com, a leading pet lifestyle website, named Healthy Paws Pet Insurance "Best Pet Insurance" based on the following categories: Customer Service Experience, Price, Coverage, and Claim Payment Feedback from Customers.
"The Healthy Paws team is truly honored to be recognized as the leader in delivering exceptional service and value to our pet parents and their cherished pets", said Steve Siadek, co-founder and chief operating officer at Healthy Paws.
One example of Healthy Paws' commitment to customer service innovation is the Healthy Paws Mobile App for phones and tablets. Through the app, submitting a claim is as easy as snapping a photo of the vet bill. No paper claim forms or requirements of the veterinarian which speeds claim reimbursement and increases customer satisfaction.
"Healthy Paws offers the best pet insurance plan including unlimited lifetime benefits and paperless claims", said Michelle Schenker of CanineJournal.com. "Healthy Paws also has an annual deductible rather than a per condition deductible. Annual deductibles increase claim payouts if the pet has multiple conditions during the year."
Healthy Paws Pet Insurance reimburses up to 90% of covered veterinary costs and provides comprehensive coverage for accidents and illnesses, including congenital and hereditary conditions. Healthy Paws' customers also can visit any licensed veterinarian in the US—including emergency clinics and specialists.
For more information about Healthy Paws' pet insurance policies, including free quotes, please visit http://www.healthypawspetinsurance.com.
About Healthy Paws Pet Insurance®
Healthy Paws is the leading pet insurance provider in the U.S. and ranked No. 1 at multiple consumer review websites. Ace Group, an A++ rated insurance carrier, underwrites its insurance policies.
Through their 501(c)(3) non-profit organization, The Healthy Paws Foundation, Healthy Paws provides cash grants to pet adoption organizations specifically for life-saving vaccines, spay/neuter surgeries and advanced medical treatments of homeless pets in their care.
About Canine Journal®
CanineJournal.com is a leading dog lifestyle website that regularly publishes educational information to help dog owners lead a better life with their pets. As an authority on all-things dog, Canine Journal has been a resource for pet owners providing advice, tips and ways to keep canines safe, healthy and happy since 2007. The team at CanineJournal.com publishes their pet insurance comparison results on an annual basis.