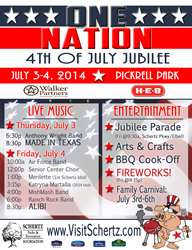 Schertz, TX (PRWEB) May 27, 2014
The City of Schertz is excited to announce that the Fourth of July Jubilee celebration will take place July 3-4 in Pickrell Park. The event will feature a variety of live music acts and great food as well as some exciting entertainment and activities. All are invited to come out and celebrate our Nation's Independence.
Thursday evening and all day Friday, there will be a number of bands playing live music. Thursday, July 3, Anthony Wright Band will be playing at 6:30 p.m. and Made in Texas will be playing at 8:30 p.m. On Friday, July 4, the lineup includes Merilette (Schertz Idol 2012), Katryna Martalla (Schertz Idol 2013), MishMash Band, Ranch Rock Band and ALIBI.
Attendees of the event have even more to look forward to than just great music. Friday, July 4, the Jubilee Parade will begin at 9:30 a.m. at Schertz Parkway and Buffalo Dr. Over the two days, there will also be a ribs barbecue cook-off, craft and business vendors, a 5K run and a carnival. The event will conclude with a fireworks display at 9:15 p.m. Friday, July 4.
The City of Schertz welcomes all residents and visitors to the Jubilee celebration. All in attendance are sure to have a great time, and the City of Schertz looks forward to seeing everyone there. For more information, visit the city's website.
About the city:
The City of Schertz is located north of Interstate 35, on the outskirts of San Antonio. The city has been described as small, yet welcoming with a unique rustic charm, located at the crossroads of Texas. Designated as one of the best places to live in Texas, the city has a warm atmosphere with the best neighborhoods, and has become one of the most beautiful areas to live in South Texas. It's also consistently in the regional rankings for the best schools. For more information, visit the municipality website at http://www.visitschertztx.com/.