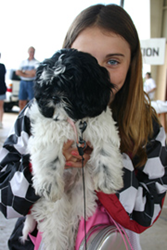 Schertz, TX (PRWEB) April 14, 2014
The City of Schertz is excited to announce the 13th Annual Homes For Pets/Schertz Humane Society Doggie Dash 5K race/3K walk will take place May 10 at Pickrell Park. The walk begins at 8 a.m. and the runners will begin soon after.
In 2001, Homes For Pets/Schertz Humane Society introduced an innovative, competitive 5K race where participants could earn recognition with (or without) their dogs. The Doggie Dash was born and quickly became the top fundraising effort each year. Proceeds from the race provide funding for homeless, injured and abandoned animals and spaying/neutering services.
This year, the theme is 80's, so participants are encouraged to pull out those leotards, leg warmers, headbands, bangles and more to make this an event to remember. There will also be vendor booths, food booths, fantastic music and an overall fun time for all ages.
Medals are awarded to the first through third place runners in several age categories, as well as the first five human/dog teams in the 5K race. There will also be a special award this year for the best 80's themed dog and human.
All proceeds benefit injured, sickly, abandoned and neglected dogs, cats, puppies and kittens in the care of Homes For Pets/Schertz Humane Society. All animals in their care live in foster care with families until they find a forever home. Along with animal rescue, Homes for Pets imparts the importance of spaying and neutering, and quality humane pet care to pet owners and potential adopters.
Early packet pickup will be at Gillman Subaru in Selma from 4-7 p.m. on Thursday, May 8, as well as at Pickrell Park, Schertz from 4-7 p.m. on Friday May 9. Registration is available online anytime at http://www.homesforpets.org/, at both of the above locations and the day of the event.
About the city:
The City of Schertz is located north of Interstate 35, on the outskirts of San Antonio. The city has been described as small, yet welcoming with a unique rustic charm, located at the crossroads of Texas. Designated as one of the best places to live in Texas, the city has a warm atmosphere with the best neighborhoods, and has become one of the most beautiful areas to live in South Texas. It's also consistently in the regional rankings for the best schools. For more information, visit the municipality website at http://www.visitschertztx.com/.