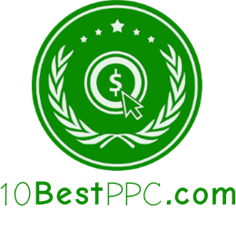 IDAHO FALLS, Idaho (PRWEB) January 23, 2017
10 Best PPC is excited to announce the winners of its Best PPC Management Firms awards for January 2017, naming Minkism, Directive Consulting and Customer Magnetism as the top honorees. This new monthly award is given for excellence in pay-per-click software.
The companies that feature in the top 10 were selected for their expertise in creating effective pay-per-click advertisements that enable their clients to reach targeted users at the best times. The advertisements are free to the companies' clients, who are charged only when users click on the ads and are transferred to the client's website. Their low entry cost means that such advertisements are considered an efficient and cost-effective way for small and emerging businesses to reach potential clients.
An increasing number of businesses are using pay-per-click advertising, but few have the time or the expertise to ascertain which companies are the best in the field to develop the advertising expertise they require. To help them find such companies, 10 Best PPC has selected the leaders in the field. Details of the winning companies are provided below to help business owners determine which will work best for them.
The winners are chosen using proprietary methods developed by 10 Best PPC, which assesses the companies and rates them according to their excellence in the field. Listing fees might affect a company's position on the list, but only highly regarded companies are chosen to appear on it.
The leading pay-per-click company is Minkism of Idaho Falls, Idaho. An agency that specializes in pay-per-click advertising management, Minkism assists firms in business sectors such as consumer electronics, aviation, hospitality, education, and consumer electronics. The company also offers other services, including SEO optimization, marketing using social media, and analytics tracking.
In second place for the best PPC management firm is Directive Consulting of Orange County, Calif, which was founded by two people who have extensive experience in content promotion, search marketing and pay-per-click advertising. Directive works with a wide range of clients. Among them are small businesses, retail outlets and financial institutions.
Occupying third place on the roster of top PPC management firms is Customer Magnetism of Virginia Beach, Virginia. The company, which offers keyword research, design and bid-management services, assigns each client with an experienced account agent to work with designers and copywriters to create compelling ads. The company also develops shopping pay-per-click ads that help eliminate attempts at price comparison.
For more information about the January 2017 award winners, visit http://www.10bestppc.com.