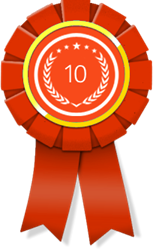 SAN FRANCISCO, Calif. (PRWEB) October 27, 2015
Several pay-per-click (PPP) and search engine optimization (SEO) companies are being honored by 10 Best Design with its new monthly rankings of top firms. The awards organization recently announced its Best PPC SEO Agency awards for October 2015 through the company's popular 10 Best SEO website, ranking Fuze SEO as the premier firm. 10 Best Design developed a Analytic Review Algorithm that gathers scientific data on web firms including client information, reviews, previous awards, traffic, SEO rankings, and additional data to determine the top companies in the industry.
Ranking at the top of October's list of leading PPC SEO businesses is Wpromote of Los Angeles, Calif. Wpromote works with some of the top companies in America to make sure their PPC campaigns rank high in search engine results. The Los Angeles company prides itself in protecting clients' investment by delivering great SEO services and helping customers connect with businesses.
The number two and three firms on the Best PPC SEO Agencies list for October are Fuze SEO of New York, NY and Digital Reach of San Francisco, Calif. As a top PPC SEO agency, Fuze SEO has achieved success from adding social media strategies, link building support, and local marketing campaigns to its PPC management. The New York company specializes in protecting and promoting company brands. Digital Reach secures its spot on the list through the creation of customized PPC and SEO plans. As part of its role as a leading PPC SEO firm, Digital Reac h provides free evaluations for potential clients.
10 Best Design's professional team is made up of experts from around the country who have vast experience in online branding, web design, and development. They specialize in PHP, JS, CCS, HTML, and more. The company maintains the 10 Best Analytic Review to honor success in the industry and promote best design practices on the internet. A Harry Bertoia quote on the company website captures the spirit that is driving todays best design firms, "The urge for good design is the same as the urge to go on living." 10 Best Design congratulates its colleagues who find themselves on the October 2015 list of 10 Best PPC SEO Agencies.