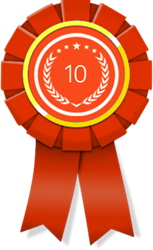 HOUSTON, Texas (PRWEB) May 26, 2016
Online marketing research firm 10 Best SEO has named Forthea, Digital Reach, and Comrade as the top three companies in its Best PPC SEO Agency category for the month of May.
Functioning as the SEO division of San Francisco-based 10 Best Network LLC, 10 Best SEO focuses on researching and compiling lists of companies that provide the best search engine optimization solutions, from scope-specific services like local SEO to specialized tools like reputation management. 10 Best SEO consists of Internet marketing experts and veterans who have worked with some of the biggest, most reputed, and fastest-growing companies in the United States.
According to 10 Best SEO, Forthea is currently the best agency in PPC SEO. As a leading PPC firm, Forthea helps clients craft effective pay-per-click advertising campaigns so that potential customers can discover their websites faster and be alerted about certain products and services on the Internet. Based in Houston, Texas, Forthea has several areas of expertise, which, in addition to aforementioned SEO and PPC, include website development, digital marketing strategy, display media support, and conversion rate optimization (CRO) improvement. The firm's clients have included Toshiba, DDS, Greenleaf Gourmet ChopShop, eel & Associates, Houston Blinds For Less, Lovett Dental, Houston Fertility Institute, and the Hanover Company.
10 Best SEO ranks Digital Reach, which is coincidentally based in San Francisco, at No. 2 on the list of leading PPC firms. Founded in 2011, the firm mainly focuses on SEO, search engine marketing (SEM), website development, digital marketing consulting, enterprise solutions, and remarketing. 10 Best SEO particularly commends Digital Reach's attention to the individuality or uniqueness of each client, recognizing that each company has specific needs for their online marketing goals. Digital Reach is also noted for relying on data analysis and optimization to improve PPC campaigns.
Coming in at No. 3 on 10 Best SEO's list of best PPC SEO firms is Comrade Web Agency. Based in Chicago, Illinois, the firm not only offers PPC and SEO services, but also web design and development, inbound marketing, and mobile app development. 10 Best SEO recognizes Comrade Web Agency as that rare firm that demonstrates outstanding expertise in both PPC and SEO, which are most effective when applied together. Notably, Comrade was once named the "Best SEO Web Design Firm" in the U.S. by 10 Best Design. The company's clientele has included Loyola University, Stanley, Olive Garden, Yahoo!, and Nelson Westerberg.
For more details about the award winners, please visit http://www.10bestseo.com.