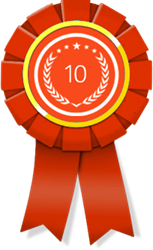 HOUSTON, Texas (PRWEB) January 28, 2016
In its ongoing efforts to highlight industry-leading SEO companies, 10 Best SEO recently handed out awards for the month of January for the best pay-per-click (PPC) agencies.
As part of its latest awards, 10 Best SEO presented PPC honors to Forthea, Digital Research and Comrade. Top PPC firm Forthea is located in Houston, Texas. In second place is Digital Research, a leading PPC SEO agency in San Francisco, Calif. Comrade of Chicago, Ill held the third-place spot on 10 Best SEO's list of top PPC firms. 10 Best SEO was pleased to hand out the PPC awards and honors the winners.
There are numerous ways to reach potential customers on the Internet. However, one of the best methods is pay-per-click advertising. The concept behind PPC involves the use of keywords and keyword phrases that businesses bid on to get exposure in the paid PPC search engine listings. When search engine visitors conduct a search based on specific keywords or keyword phrases, the PPC search results are primarily shown from the highest bid down to the lowest bid with a few small adjustments based on other factors.
Businesses have been using PPC for many years. The origin of the PPC concept goes back to the introduction of the modern Internet. If used correctly, PPC is a very effective way to gain exposure on the Internet. PPC has proven to be a great way to convert potential customers into paying customers. The reason that PPC is such an effective conversion tool is because the visitors at search engines are already in a buying mode. Therefore, the ROI concerning these visitors is usually higher than most website visitors. While many businesses use PPC, most businesses do not have the staff in-house to handle the various PPC responsibilities. As alternative, many businesses use a PPC or SEO agency to handle all PPC-related tasks. In an effort to showcase the top PPC companies in the industry, 10 Best SEO started the tradition of presenting PPC awards to the Best PPC SEO Agency.
Many businesses utilize PPC on a daily basis and PPC companies provide an outstanding service that benefits the businesses and their customers. The PPC industry has many great companies that work hard day in and day out to provide great PPC services along with maintaining excellent customer support. 10 Best SEO understands the combination of skills necessary to handle the PPC operations for businesses, and 10 Best SEO congratulates all the winners of the most recent PPC awards. Also, 10 Best SEO will begin presenting these awards on a monthly basis.