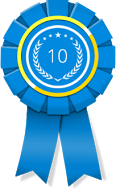 WASHINGTON, D.C. (PRWEB) March 30, 2017
In its latest round of monthly awards, 10 Best Design has named Old City Press as the Best Print Design Firm for March 2017.
Brands that are trying to reach new levels of success in their markets should consider a different approach that mixes both the emerging digital marketing trends of the future and the tried-and-true print marketing methods of the past and recent present. By saturating the market with as much targeted advertisement as possible, brands can reach customers they never considered. There are many modern digital marketing and graphic design firms out there that offer services in both print and web-based design, and that relative saturation of that market has forced some businesses to question which agencies are the best.
Fortunately, 10 Best Design has started a monthly ranking of the best print design agencies, and the list is updated at the start of every month to ensure optimal information is used by consumers. For March of 2017, the winners have already been selected. The monthly winners include the top ten performers in each category, and the top three within the best print design category are listed below.
The top print design firm for the month of March in 2017 is Old City Press, one of the most well-respected names in the digital marketing and print media industry. As the leading print design firm, Old City Press has the ability to produce a number of amazing print design formats, including stationary, business cards, invitations and brochures. Using existing style elements, they create designs entirely from scratch. No templates are ever used.
Top print design agency Tiny Bold is the second-best print design firm for the month of March. Tiny Bold is a firm that operates under the philosophy that small and midsize businesses should have professional websites and print media options that just as engaging as enterprise businesses. They work with a number of print media artists and project managers to get the job done no matter the size.
Character also was named among the list of the industry's best print design firms. There are few print design firms with the same attentive nature and attention to detail offered by Character. They are a world-class firm that offers brand strategy and identity management services to clients of all varieties. Their mission is to help their clients reach both short and long term goals.
To learn more about the winners for the month of March, please visit http://www.10bestdesign.com.