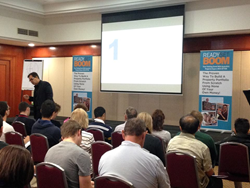 For investors to succeed they need several factors, which includes creative strategies to make the most of any market conditions, effective research and high quality information.
(PRWEB) July 22, 2014
When Fairfax paid $50M to purchase AllHomes Property Website, renowned property investment educator and best-selling author, Rick Otton, is citing this as proof just how valuable online data sources are for investors. Using his decades of experience and the research skills honed by years of diligent investing as well as writing a best-selling investing book, Mr. Otton is shedding light on the best sources of information when researching the property market in Australia. Contrary to popular belief, there is no "one size fits all" approach that works in all parts of the country.
"I've found that the majority of investors in Australia approach their research to property in the same way that they approach buying their weekly groceries" said Mr. Otton. "We've all got a favourite source of information, and we stray from it only rarely and when circumstances dictate we have to."
"What I've found is that there are different market leaders for property listings and research depending on which part of the country you are in" said Mr. Otton. "For example, most investors in New South Wales and Victoria are familiar with the Sydney Morning Herald and The Age newspapers. What they might not know is that the leading property marketing website in those states, http://www.Domain.com.au, is owned by the same company as those two newspapers" said Mr. Otton.
"The leading way to advertise and sell property in Canberra is through the AllHomes.com.au portal, which coincidentally was just bought out by the Domain Property Group.
"In the wider Australian market, there is no doubting that the industry "gorilla" is http://www.RealEstate.com.au, which attracts millions of page views every week. This is driven by their clean layout, geographic diversity as well as options for both renting and buying meaning that more real estate agents and sellers choose to list there than anywhere else" revealed Mr. Otton.
"For more general sources of information about property in a particular area such as average selling price, average rent and density, sites such as http://www.RPData.com.au and Australian Bureau of Statistics data are both fantastic free resources for investors looking to do high quality research" said Mr. Otton.
"For investors to succeed they need several factors, which includes creative strategies to make the most of any market conditions, effective research and high quality information" said Mr Otton. "This is the reason that these factors are the focus of the regular podcasts on my website."
Investors interested in downloading the most recent podcasts of the We Buy Houses Radio Show which is hosted by Mr. Otton are encouraged to visit the website http://www.WeBuyHousesRadio.com. There are also numerous complementary resources available to read and download from the site.
For over 24 years property investment specialist Rick Otton has built an impressive real estate portfolio using innovative strategies that he has developed – that don't require taking out traditional bank-type loans. He constantly refines his techniques as he buys and sells properties through his We Buy Houses business which operates in Australia, New Zealand and the UK.
A gifted speaker and educator, Mr. Otton conducts regular free seminars across Australia, which build on the concepts he shares in his book 'How To Buy A House For A Dollar'. The book was voted by Money Magazine and Dymocks Book stores as one of the Top 10 Most Popular Finance Titles for 2013.
He regularly broadcasts, records, and publishes the transcripts of, his iTunes podcasts via We Buy Houses Radio.
Known for his innovative low-risk, high-reward approach to Australian real estate investing, Rick has been featured in a variety of television programs and magazines, including Today Tonight, Hot Property and Australian Property Investor.
Subscribers to Mr. Otton's We Buy Houses Radio no-charge podcasts receive a complimentary Property Investor's Tool Kit. To learn more visit http://www.WeBuyHousesRadio.com.