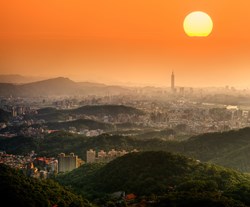 These top 5 property markets may be growing at a fast pace, however only two of the top 5 can be considered suitable for most buy-to-let property investors.
(PRWEB UK) 12 November 2013
The latest global house price data for Q2 2013 reveals that Taiwan has the fastest growing property market in the world with prices rising at 7.4% on the quarter (Source: Knight Frank Global House Price Index Q2 2013) closely followed by the USA (7.1%), Lithuania (5.4%), Estonia (5.2%) and Dubai (5.0%).
Loxley McKenzie, Managing Director of Colordarcy.com, commented, "These top 5 property markets may be growing at a fast pace, however only two of the top 5 can be considered suitable for most buy-to-let property investors.
"The USA and Dubai are both well-known destinations for investors looking to make money from property unlike the lesser known and perhaps less predictable property markets of Lithuania and Estonia.
"The latter two countries have had wildly fluctuating fortunes as a consequence of the financial crisis which hit them hard in 2008. Taiwan on the other hand has seen property prices rise considerably over the past three years, unfortunately yields on property, particularly in Taipei are amongst the lowest in the world."
Colordarcy investment analysts point out that just because property prices are rising in a particular country, this doesn't always make it a suitable destination for property investors.
According to Colordarcy, property investors need to consider rental yields alongside capital growth and also ownership costs. Managing an investment overseas can eat into profits from property, which is why it is safer to consider countries with a strong track record for foreign investment.
Property investment opportunities in the USA and Dubai often come with management included, which can give investors piece of mind. Average rental yields are also very good in the USA with 8% net yields achievable at the moment.
Demand for property in some US states such as Florida is high due to a shortage of available housing stock. Rental yields in Dubai meanwhile are also a respectable 7%.
Notes to the editor:
Colordarcy is a leading property investment company that specialises in finding positive cash flow investment properties worldwide. Their aim is to provide their clients with properties that offer the unique combination of strong growth returns and cash flow positive income.
Investing in positive cash flow property significantly reduces the risk because the property will pay for itself regardless of market conditions, employment status or other financial commitments.
Colordarcy provides complete support before, during and after a sale, including finding tenants, financial assistance, viewing trips and currency services. Colordarcy are proud members of the 'Association of International Property Professionals' (AIPP), and abide by its code of conduct, one established to protect the buyer, by ensuring members follow professional guidelines and procedures.
Colordarcy investment property portfolio includes some of the best properties for sale in Brazil, Florida, Turkey and the United Kingdom.
For more information, supporting pictures or logo artwork, please contact:
Brett Tudor
PR Manager
Tel: +44 (0) 207 100 2393
Email: press(at)colordarcy(dot)com
Web: http://www.colordarcy.com/
Colordarcy Investment Ltd
28 Leman Street
London
E1 8ER