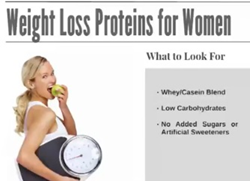 Beverly Hills, CA (PRWEB) March 21, 2014
HealthNutritionNews.org has published a new video that covers a common problem for women who are trying to lose weight rather than gain muscle. They describe what to look for amidst all the claims that the best protein powder for weight loss is either this flavor, contains a specific ingredient, or provides the quickest recovery period. Health Nutrition News explains that when the goal is to lose body fat a lean protein powder that is a whey/casein blend, has fewer carbohydrates, and contains no artificial sweeteners is best.
The video describes losing weight as a mixture of nutrition, exercise and a healthy lifestyle. Within this mixture regardless of age, gender, or weight we all need protein and is essential in any weight-loss program. Utilizing it in shakes is always a safe way to ensure the body gets enough protein in a balanced and nutritional diet. The two most popular types of protein are whey, which rapidly increase amino-acid synthesis, and casein, a slower digesting compound that prevents the amino acids from breaking down. Health Nutrition News suggests a supplement that contains a mixture of both for ideal weight loss results. They note however, women adding a protein powder into a diet should always check the nutrition label first to see if contains an excess amount of carbohydrates.
Many powders HealthNutritionNews.org looked into range from one hundred percent protein to blends containing mostly carbohydrates with a little added protein and fat. If a supplement is loaded with either carbohydrates or fats, they do little to improve the body's metabolism and can cause weight loss plateaus. This is a result of the body's proficiency in processing protein and it burning more energy, thus calories, than when processing carbs or fat. Furthermore, when making a meal replacement shake using high-quality proteins women can lose more weight and fat than they would by following a reduced-calorie diet. Another important factor Health Nutrition News suggest checking on the nutrition label is the amount of artificial sweeteners, colors, or flavors added into it.
Many powdered supplements contain a lot of added sugars for flavor, which increases the total calorie count, and will result in zero weight. Look for a pure protein powder sweetened naturally with stevia extract and/or a naturally sweet form of fiber call inulin. Health Nutrition News suggests two common flavors, chocolate and vanilla, which are often sweetened naturally. Ideally, women looking to lose weight would also select a low calorie, gluten free, and all natural weight loss protein. That being said HealthNutritionNews.org emphasizes that protein is a vital nutrient for both men and women to stay healthy.
It is one of the body's main building blocks for muscle, bone, skin, and other tissues. It doesn't stop there, as it can also help the body maintain healthy hair, teeth, gums, and fingernails. When the right supplementation is chosen it can have a positive outcome on weight loss and health. Women using the healthiest protein powders should expect to see results in as little as six weeks.
Health Nutrition News offers a free e-book that contains their recommendation for the best protein powder blend for women and weight loss and a suggested diet plan to follow when looking to achieve the quickest weight loss results. It is available for a limited time here: http://healthnutritionnews.org/protein-powder-women.