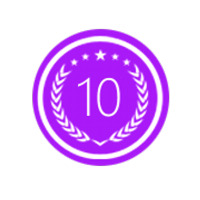 NEW YORK, N.Y. (PRWEB) April 24, 2017
10 Best PR has released the latest winners of its Best Public Relations Company Awards for April 2017. The top three winning firms are Veritas, Exponent and Big Picture PR.
10 Best PR regularly recognizes industry leaders in public relations for excellence in their field. Firms awarded this designation represent the best agencies around the world, and most of them have also won numerous awards for individual PR campaigns.
Awards given by 10 Best PR are thoughtfully considered. The criteria for receiving this honor include the breadth of PR service provided, qualifications of PR staff, and ongoing support to assist clients with their public relations needs. Each of these award winning PR firms must meet the high standards of 10 Best PR to be considered for an award.
Topping the list of this month's award winners is Veritas, a leading PR firm with multiple locations. The company is based in Toronto, Ontario and also has offices in New York City. The firm has served many popular clients such as Budweiser, Disney, and Subway. A hallmark of the public relations services provided by Veritas is helping a client to secure endorsements that increase brand visibility and build popularity.
Exponent in Minneapolis, Minnesota is being honored in second place on 10 Best PR's list of best public relations companies. This PR firm represents clients such as General Mills, Hershey, and Caribou Coffee. The focus at Exponent is on digital public relations campaigns which are designed to harness and leverage the power of social media. The firm employs a talented team of PR professionals as well as individuals skilled in web design and social media management.
Big Picture PR in New York City earned itself a 10 Best PR award for excellence in all aspects of public relations. As a leading PR agency, Big Picture PR excels at creative storytelling for the consumer lifestyle brands sector. The PR professionals at Big Picture produce a detailed business plan for each client to address their public relations needs.
This is a new monthly award that was created by 10 Best PR to honor excellence in public relations. It is given for the purpose of recognizing the tireless work performed by PR professionals on behalf of their clients. To learn more about this month's award winners, visit http://www.10bestpr.com.