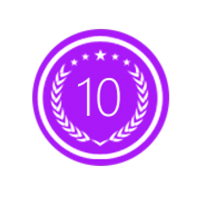 SAN FRANCISCO, Calif. (PRWEB) September 21, 2016
Awards organization 10 Best PR is pleased to announce its creation of a new monthly award category: Best Public Relations Company. Winners for the September award are Veritas, Exponent and Big Picture PR.
10 Best PR is a company that prides itself on providing valuable information to the public regarding which public relations companies can offer them high quality, effective PR services. 10 PR's latest award is based on a number of specific metrics that weigh the overall efficiency and quality of a PR firm. Following is a summary of the companies that topped the recent list of leading public relations businesses:
Veritas, the top public relations business on 10 Best PR's list, was founded in 1993. As a Toronto-based agency, the professionals of this public relations firm specialize in offering diverse PR services to ensure that the business owner retains an optimized brand presence. Some of the services provided by the Veritas professionals include internal communications, media training, investor relations, public affairs, crisis management, and social media engagement. Used synergistically, these techniques help boost the business owner's revenue and sales. The company's professionals have worked with some of the top brands available, including Disney, Subway, Microsoft, Best Buy, and Budweiser.
Exponent is a leading public relations company based in Minneapolis, Minnesota. The company excels in offering customized PR services for business owners in diverse industries, some of which include health and wellness, agriculture, and nutrition. The firm employs industry experts in diverse fields, some of which include design, administration, reputation management, and corporate communications. By maintaining an open-minded, open-ended approach to the world of PR, the professionals of the company are effective in optimizing the client's brand image in a manner that accelerates conversion and increases the likelihood of brand loyalty.
Ranking third on 10 Best PR's list of leading public relations firms is Big Picture PR, a professional, progressive public relations company that provides clients interactive, expedient services that work. The organization's professionals have worked with both small and large companies, and they are known for implementing cutting-edge strategies to optimize the business owner's relationship with the media and general public. Big Picture PR representatives have worked with some of the world's leading companies, including Old Navy/Gap and Sony. Corporate leaders who want to attain excellent, customer-oriented public relations services that take their brand to the next level should choose Big Picture PR.
To learn more about the recent award winners, please visit http://www.10bestpr.com.