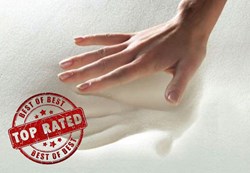 Detroit, MI (PRWEB) December 10, 2013
Reviews can be an integral part of any shopper's product research process, proving especially important for larger items like mattresses. However, mattress brands are constantly updating their product lines and introducing new technologies, meaning the top rated brands from years ago may no longer be the best-rated options today. The competitive and fluid marketplace makes staying on top trends essential to choosing a mattress likely to offer satisfaction, comfort and durability, especially in the quickly-growing memory foam sector.
Mattress Inquirer, a blog on beds and sleep, recently compared memory foam mattress brands to see which earned the best ratings from consumers in 2013, with some interesting results. In the article, titled "Best Rated Memory Foam Mattresses of 2013", the blog details and compares five of the best-rated brands and offers buying insight for prospective consumers.
The website's comparison utilizes owner reviews from retail websites, third-party websites and consumer review websites in order to cull the top-performing brands of the past year. Based on their analysis, this year's top-rated memory foam mattresses include the brands Amerisleep, Bed In A Box, Dreamfoam, Sealy Optimum, and Simmons Comforpedic. In the guide, readers will find a table highlighting key details for quick comparison, followed by a more detailed written analysis.
In addition to overall owner satisfaction (the percent of owners who are satisfied with their bed), the article also compares queen size price ranges, memory foam and core density, warranty, trial periods, and the percentage of reviews that mention issues with, heat, odor, or durability. Values are provided for each brand in the table, and then discussed and compared.
Whereas the industry average satisfaction rate for memory foam mattresses remains around 80%, these five brands excel and perform above the mean. According to the article, the highest rated memory foam brand of 2013 is Amerisleep, whose plant-based mattresses earn 92% satisfaction rates in reviews, with complaint rates of odor, heat and sagging all under 3%. Bed In A Box, another online brand, earned 86% satisfaction and Dreamfoam, sold via Amazon, earned 85%. Rounding out the top five are national retail brands Simmons and Serta, each earning 82% owner satisfaction. All of the top five brands perform well, but satisfaction rates and specifications still vary significantly as demonstrated in Mattress Inquirer's comparison.
In addition to explaining the importance and usefulness of owner reviews, Mattress Inquirer also offers an overview of memory foam density including what it means and how low and high density foams differ. The article also discusses the basics of warranties and trial periods, and offers helpful tips for consumers considering a new memory foam mattress, especially people unfamiliar with subcategory. On the website, readers can also find several resources for comparing brands and learning about mattress types, as well as related bed and sleep news.
Mattress-Inquirer.com is an informational blog that provides relevant and recent news related to the health, sleep, and mattress industries. In addition to covering new technologies, mattress reviews and opinion pieces, readers enjoy a variety of helpful educational resources designed to aid shopping and sleep quality.