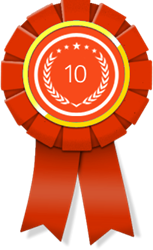 TROY, N.Y. (PRWEB) May 26, 2016
10 Best SEO is pleased to announce its new award for the Best Real Estate SEO Firm, with the top three winners being Outspoken Media, Real Estate Webmasters and Element 360. The award recognizes online advertising agencies that pull out all the stops to help real estate clients build their businesses in a productive, progressive manner.
Outspoken Media tops this month's list of best real estate SEO agencies because of their commitment to offering customized services that yield substantive results. The professionals of Outspoken Media are passionate about ensuring that real estate professionals can optimize their bottom line, and they make it happen by offering a synergistic set of Internet marketing services that optimize visibility and enhance communication between customer and client. Additionally, the Outspoken Media professionals develop and maintain strong relationships with business owners to ensure that their needs always come first.
Real Estate Webmasters, another leading real estate firm on the list, has a variety of impressive attributes. This company is skilled in utilizing diverse online advertising services to ensure that real estate companies optimize their level of visibility in the search engine results pages of major engines such as Bing and Yahoo. Additionally, Real Estate Webmasters is effective at helping business owners to develop and grow strong relationships with clients, thereby accelerating the brand recognition process and increasing the likelihood of conversion.
Individuals who are serious about attaining excellent SEO services should contact the professionals of Element 360, a top real estate SEO agency located in North Carolina. This Internet marketing firm has topped this award list because of its goal-oriented, results-driven approach to the world of digital advertising. By focusing on accomplishing goals and getting results, this team of techies excels in empowering real estate companies to wow audiences, expand their level of online authority, and secure new business. Additionally, the Element 360 professionals maintain a cutting-edge approach to the work they do, meaning that clients can count on their real estate agency retaining a contemporary image that appeals to today's audience.
To learn more about this month's award winners, please visit http://www.10bestseo.com.