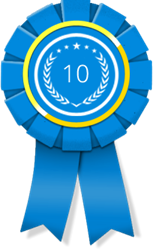 Portland, Oregon (PRWEB) March 19, 2015
Recently, 10 Best Design published its coveted list of firms that are among the best real estate design companies in the nation. Reigning at the top of the roster of web development entities are 1000 Watt, Real Geeks and Otherwise Inc.
10 Best Design is a company which is based in San Francisco, California. They have a team of experts with many years of experience in the web design field and these experts put together lists of the most outstanding firms. They have currently put together a list of the best real estate web design firm companies. The list is assembled using several different ranking points, such as client review, website traffic and online research, among other things.
The current list of stellar real estate web development agency reviews includes outstanding companies such as 1000 Watt, a leading real estate web design firm based in Portland, Oregon. 1000 Watt took first place in the competition. They offer their clients a wide variety of services and will help companies with branding, copy writing, design and website development. Their marketing strategies have helped many start-up companies establish their client base.
Also making the Top 10 list of best real estate web development agencies is Real Geeks, based in Kailua, Hawaii. Their innovative approach to real estate web design has been proven to increase their client's website traffic. Real Geeks have used many outlets in order to increase the traffic flow to any real estate website. Interactive maps are included in listings, so that potential buyers can look at any property they may be interested in. For customers wanting to list their homes for sale, there are online forms which can be accessed easily. Real Geeks have been creating real estate websites which produce many leads for realtors for years.
Another worthy contender, Otherwise Inc. is a top real estate web design firm based in Chicago. For over 20 years, they have been producing outstanding websites for real estate companies all over the country. The websites designed by Otherwise Inc. have been used by real estate firms in order to increase their business revenue. Using many strategies, Otherwise Inc. will consult with their clients in order to put together a unique website for their listings. They will use social media to increase the traffic flow to the site and get the firm's name out to the public. The support received by Otherwise Inc. does not stop once the firm's website has been put on the Internet, they will continue to provide the needed help to continually upgrade and maintain the site.