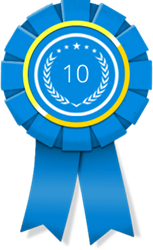 Portland, OR (PRWEB) February 18, 2016
10 Best Design is excited to release a new award this month: the Best Real Estate Web Design Firm award. The February award acknowledges leading real estate web development business representatives who break the mold when it comes to designing sites that build the customer's online presence and power. The companies that topped the list are 1000 Watt, NoFavorite and Real Geeks.
As the premier real estate web design firm, 1000 Watt understands that web design is not a game. Rather, it is a complex process that requires ongoing mediation, experimentation, and optimization. In recognizing that site creation is just the beginning of this effort, the 1000 Watt developers work with sophistication and innovation to continually update the real estate firm's site so that it is always enhanced for key factors like connectivity and functionality. The 1000 Watt professionals are also excited about developing and sustaining high quality relationships with each real estate business representative to ensure that the company's interests are protected and respected.
NoFavorite, another leading real estate web development agency, is a team of forward-thinking, fabulous web design experts who work with relentless sophistication and speed to put together incredible sites for clients who want their brand to perform exceedingly well in the ecommerce sector. The professionals of NoFavorite know that the best sites are those that stand out and strike the viewer as highly inventive and original. As such, they maintain an innovative approach to the web design and development process. The end result is a highly creative site that distinguishes the real estate client from all competitors. Choose NoFavorite to obtain an impressive return on investment that keeps the business moving forward.
Based in Kailua, Hawaii, Real Geeks also distinguished itself as one of 10 Best Design's impressive real estate web design firms. Real Geeks is known for optimizing the business owner's online presence with passion and precision. The company has extensive experience working with individual agents and realtors, and they love making the client an integral component of the entire marketing campaign. In terms of web design, the techies of Real Geeks are passionate believers in the power and importance of originality. As such, customers won't find them creating look-a-like, generic templates and content. Rather, each page designed by the Real Geeks techies is optimized for innovation and creativity. Other factors that the firm's marketing mavens will optimize include engagement, cross compatibility, and functionality.
For more information, visit http://www.10bestdesign.com.