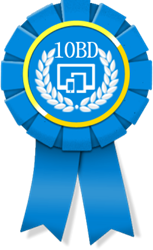 New York, New York (PRWEB) March 11, 2014
Along with other categories, the ever growing 10 Best Design has announced its winners for the Best Responsive Web Design Firms. This month's top contender is Kohactive, a familiar name to 10 Best Design. They have been ranked numerous times among the best in the world by this organization.
In second place, Blue Fountain Media receives its debut award from 10 Best Design. Rounding out the podium is Cofa, the third place finisher from California that took 9th and 2nd place in January and February respectively, solidifying its place in the forefront of the responsive design scene.
The days of pixel-perfect design are over. Today's consumers are increasingly accessing their favorite brands' websites via iPhones, Androids, Blackberrys, and other mobile devices. All of that variety means retailers need to adapt to continue to serve the market. This development has led to a sort of renaissance in web design and the web industry.
As a sign of the market's youth, rankings and awards have frequently changed hands in the category of responsive design. DisplaySearch NPD reports that personal tablets are set to overtake laptops in popularity by 2016, and that means companies will need to adapt to the newly popularized touchscreen input. As new design companies enter and leave the market, consumer and enterprise trends are emerging, separating the winners from the losers. One such upset can be seen in Cadre, last month's first place choice of 10 Best Design, which has fallen behind 9 others into 10th.
10 Best Design's first place choice, Kohactive, also addresses the trend of increasing ease of starting a business. An About page breaks down the client process to plain English to make their services accessible to small startups just as well as large corporations. This contrasts starkly with last months winner, Cadre, listing primarily fortune 500 companies in its client list.
All in all, responsive web is a category of web design to watch. As a quickly growing market in both size and relevance, responsive design is the solution to a divergence of devices. Touchscreen devices feature more and more varied screen resolutions, forcing businesses to react.