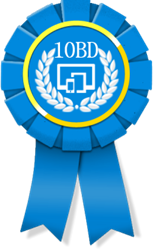 Atlanta, Georgia (PRWEB) October 30, 2013
California-based 10 Best Design, a team comprised of individuals from around the U.S. who boast experience in online branding and web development, recently announced its pick of Best Responsive Web Design Firms, recognizing leaders in web design that create fluid layouts and which respond to the width of a page to yield desktop, tablet and mobile versions of a site. Winning a respectable second-place finish was Atlanta, Georgia-based Creative Momentum, cited by 10 Best Design for its talent in building websites with an "instinctive architecture" that guides the user through a desired series of actions. The Creative Momentum slid into the position just behind The Devbridge Group and before Kohactive, both based in Chicago.
"The Creative Momentum supplies websites that stand above the competition by providing more than simply a grand front-end design," states a 10 Best Design spokesperson. "The company was recognized in our coveted awards ranking because of its proficiency in building intelligent designs that are carefully planned to be consistent with a firm's brand and which represent a client in the most professional way possible."
The Creative Momentum also offers comprehensive services beyond rudimentary web design including UI/UX, mobile design, media and SEO. "The world of advertising, marketing and design are ever-changing, and unfortunately for many companies, their strategies are behind the times," states a Creative Momentum representative. "As a full-service creative agency, we give companies the momentum it needs to bridge that gap and get the conversation started – moving in the right direction to align with a specific market is what we bring to the table. We are absolutely honored that 10 Best Design has placed us in such high ranking within its selections for Best Responsive Web Design Firms."
The brainchild of seasoned professionals looking to fill in the blanks between outdated websites created by even some of the most professionally-marketed web design firms and the capable dynamics of HTML5 and Web2.0, 10 Best Design has quickly become the web's premier source for the top web design firms. From Best RWD to Top SEO firms, 10 Best Design categorizes them all.
For further information on Responsive Web Design, Best RWD firms and more, visit http://www.10bestdesign.com/firms/responsive.