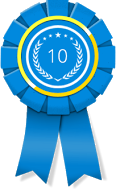 NEW YORK, N.Y. (PRWEB) February 09, 2017
10 Best Design is excited to announce the winners of its Best Trade School awards for February 2017, hailing Big Drop Inc and Blue Fountain Media as the premier honorees.
Responsive web design is likely to be the future of digital marketing and online communication in general, and there are many firms out there that claim to provide top-tier responsive web design services. However, every firm wants to make it seem as if they are the top in their field, so how can a consumer trust a firm that makes such outrageous claims? The answer is by checking the reputation of those firms through a third-party service, and 10 Best Design is that service.
10 Best Design operates a monthly award system that ranks each of the top responsive web design firms in the world, and it provides a list of the top ten for each month. The lists have to be updated so frequently because the industry changes that quickly. The patented algorithm used to compare these firms is sensitive to even the slightest changes in public opinion.
The top ten winners for the month of February in 2017 have been chosen, and the first three winners are outlined below.
Big Drop Inc tops the February list of best responsive web design firms. As a premier industry provider, Big Drop Inc is a firm with a deep dedication to providing their clients with the best digital marketing services possible. They understand that a responsive and engaging website can be the linchpin that pushes a business to a new level of success, so they work hard to be that source of success.
Another top RWD agency is Blue Fountain Media. The company ranked second on the list of best RWD agencies for February. Blue Fountain Media is a firm that consistently provides impressive results that are both informative and comprehensive. They are completely focused on client satisfaction, and they do so by considering what the end user wants and how their client can help.
Leading RWD agency WebpageFX took the third-place spot on this month's list of winners. There are few web design firms with the same combination of classic and contemporary web design techniques. WebpageFX is a global firm that offers services to any who might need them, and their services are not limited to web design. They also provide custom graphics, custom web content, and search engine optimization. WebpageFX also has a huge amount of experience dealing with social media management and advertising.
For more information about the February 2017 award winners, visit http://www.10bestdesign.com.