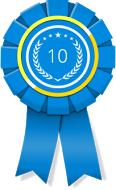 NEW YORK, N.Y (PRWEB) August 24, 2016
10 Best Design recently shared the ranking from a new awards category, best responsive web design firm. For the month of August, the top-ranking firms in this category were Big Drop Inc., along with two other worthy contenders.
Many modern businesses are starting to take advantage of responsive web design, which is a variety of website development that makes it easy for content to function on any platform. The layout of a website using responsive web design might shift around and appear fluid, and this makes it easier for those elements to work on a smartphone, desktop, tablet, or other device. Responsive web design is the future of web design in many ways, and 10 Best Design understands the value of professional responsive web development.
10 Best Design wants to bring the truth to the public regarding the best web design firms in the industry. They do so by constantly comparing the top-tier firms with each other, which allows them to create a ranking system that responds to the quality of the firms in question. 10 Best Design will update their findings at the start of each month so that businesses can keep up with the changing trends. For August of 2016, the top few winners are outlined below.
Big Drop Inc is the top responsive web design firm for the month of August in 2016. They work with HTML5 code to ensure their responsive platforms can keep up with the user experience. They take pride in their exceptional level of experience, which has given them the opportunity to provide top-tier responsive web design services to businesses of many different sizes. They know how to keep sites up to date and present within search rankings.
Blue Fountain Media is another premium company that led the ranking of leading responsive web development businesses for August of 2016. They use their extensive experience to blend the idea of web design with the art form of creative graphic design. The results are always above and beyond what is asked of them, and they have developed some of the most popular responsive websites on the internet.
Old City Press is pleased to hold the third spot on 10 Best Design's August 2016 listing. As a first-rate responsive web design firm, Old City Press is not made up of talent fresh out of school. They have a number of industry professionals that understand the true value of responsive web design. They design sites that are not only fluid and active, but that have improved features and functionality. Such comprehensive design draws in traffic and spawns repeat visitors.
For more details concerning this month's winning companies, visit http://www.10bestdesign.com.