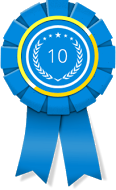 NEW YORK, N.Y. (PRWEB) October 12, 2017
Big Drop Inc, Blue Mountain Media, and Arhue were recently named the three best responsive web design (RWD) companies in the United States by 10 Best Design. The top RWD Agency honors are reserved for companies that gain the best results for clients with their web-based tools and services, which include site design, search engine optimization (SEO), and app development.
A division of the San Francisco-headquartered 10 Best Network LLC, 10 Best Design ranks firms that specialize in providing website design and development services based on a number of attributes, which include site traffic, awards and accolades, reviews, and client and online research. The evaluation is conducted by professionals experienced in using web development tools such as HTML, CSS, Ruby on Rails, and PHP. The Best Responsive Web Design Firm category, in particular, recognizes companies that are especially skilled at building websites that are aesthetically and functionally optimized on any device—whether it be a smartphone, laptop, tablet, or desktop.
With its headquarters in the Big Apple and grand access to several of the country's most prominent companies and institutions, Big Drop Inc is ranked number 1. It has designed some of the best responsive websites around, so it is not surprising that Big Drop Inc tops the October list of best responsive web design firms. Its clientele has included the Financial Communications Society, Tocqueville, Samsung, Mudd Jeans, CoreCar, and MedShare. For each responsive web client, Big Drop fills the website's HTML tags with information that maximizes its online visibility from a geographical and cultural perspective.
Also based in New York City is Blue Fountain Media, a leading responsive web design firm that ranked second on this month's list. Blue Fountain Media markets itself as a creatively-minded digital agency. Its work for clients such as Toys R Us, NASA, the NFL, AT&T, Tishman Speyer, HarperCollins and ServiceKing, has garnered recognition from a wide variety of industry experts and major publications like Forbes and Top Interactive Agencies (TIA). In fact, TIA ranks Blue Mountain Media as the number 1 interactive agency.
Coming in at number 3 is Arhue, a top RWD firm based in San Francisco—the heart of Silicon Valley. Established in 2011, Arhue strikes a great first impression with its dynamic website. The site has an image for each of its stated services and blurs the line between icon and animation. Arhue has designed for Benefit, Marriott, Wells Fargo, Wired, Coors, Samsung and Ferrari, among others.
For more information about the winners in this category, visit http://www.10bestdesign.com.