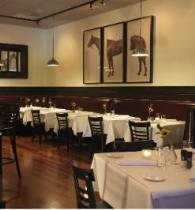 The staff is friendly and the food is delicious. We have tried several items on the menu and they all deserve our coveted 5 Star Award for Excellence.
Barrington, RI (PRWEB) August 08, 2013
A panel of restaurant review professionals from Best Restaurant Reviews has chosen Billy's Restaurant, which can be found at 286 Maple Ave in Barrington, RI 02806, as the best restaurant in Rhode Island. Owner Billy bought the restaurant on a whim with encouragement from his sister/chef and after an eight month building rehabilitation Billy's Restaurant was ready to open its doors in April of 2009.
In the evaluation by Best Restaurant Reviews it was found that Billy's is committed to providing guests the highest quality, freshest foods available. Only using superior meats and seafood, provided by Kinnealey Meats and Foley Fish respectively. They are also partnered with local farm Four Town Farm to bring its guests a wonderful farm-to-table experience, and the very best local produce. Whether enjoying the famous Billy Burger, sautéed calamari or mouth-watering pasta, the flavors hit all taste bud sensors to be enjoyed by all. They are proud to offer an extensive, eclectic mix of beers, wines, and liquors carefully selected to complement their food. The food alone wasn't what got Billy's selected as best restaurant in Rhode Island and the atmosphere provided by the décor and lighting sealed the deal.
Bill wanted a classic, cozy, unpretentious setting to drink and dine. No detail was overlooked: from the warm, inviting interior, custom artwork, handsome leather banquets, to Bill's "baby"- the solid Mahogany bar, every aspect was painstakingly thought out. Billy's is designed to be extremely flexible and accommodating for parties of 1 or 125. And of course, children are always welcome. Looking for a quiet and cozy place for celebrating a special occasion or a new place for the whole family to frequent Billy's has it all and ultimately was selected as the Best Restaurant in Rhode Island by this panel of restaurant review professionals.
About Billy's:
Visit the restaurant at Billysllc.com or on Facebook here at Billy's Facebook page. Reservations are taken online at the website, through Opentable, or by phone at (401) 289-2888.
Visit Billy's to see why Best Restaurant Reviews honored Billy's as the Best Restaurant in Rhode Island.