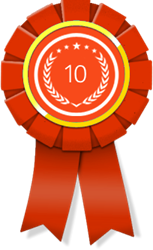 CHICAGO, Ill. (PRWEB) October 22, 2015
10 Best SEO, an online marketing awards website that reviews and lists the top ten best search engines for users in each category, recently released the top firms for its October 2015 award for Best Restaurant SEO Firm. The leading three contenders are Linchpin SEO, Restaurant Marketing Gurus and Recipe Social.
The top ten firms that make the list are the best search engines for that particular category. To decide which restaurant SEO businesses meet the criteria for being the best, 10 Best SEO looks at the variety of services offered and how those services give a restaurant an excellent online presence. Ranking order is based on statistics gathered from a large variety of qualitative and quantitative information. A restaurant's reputation on the web can be the result of smart SEO decisions.
At the top of the list of best SEO restaurant businesses is the Chicago, Illinois-based firm, Linchpin SEO. By giving small businesses a doorway to the latest marketing techniques and technologies, Linchpin makes competing with major corporations a reality. Linchpin also customizes the marketing packages based on the size of the business and what end result is expected. Linchpin cares about the small business owner, and it shows.
Restaurant Marketing Gurus out of Denver, Colorado holds the number two spot for excellence. As a leading restaurant SEO firm, Restaurant Marketing Gurus specializes in numerous areas, including search engine optimization, restaurant web-page design, pay-per-click marketing and social media branding. Not only do they offer these quality services, they also provide a blog with useful tips on how to have a successful social media presence and how to create a user-friendly and functional web page that potential customers will keep coming back to.
Rounding out the top three is a U.K. company called Recipe Social. This London search engine organization group specializes in restaurant social media marketing, web design and maintenance, and food photography and videos. One thing that sets Recipe Social apart from the others is their free consulting for businesses that want to explore new ways to broaden their marketing plans. Working with restaurants such as La Choza, Burger Brothers and Chimney House has helped cement their reputation and place in the top three.
Congratulations to all the firms that made the Top Ten!