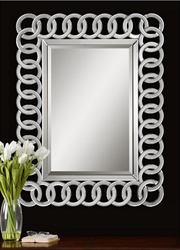 For those on the fence about trying out a black and white decor, it's best to start with a smaller space - like a bathroom or hallway - as they're both easier to redecorate and a little less overwhelming.
(PRWEB) February 05, 2014
HomeThangs.com – the Online Home Improvement Store has made their goal to deliver the right product to the consumer. With that in mind, shopping and home design tips, as well as special product selections are being introduced.
Bright, bold colors have been trending in the home, from assertive reds and oranges to emerald greens and this year's radiant orchid from Pantone. But one of this year's top color trends doesn't actually use any color at all. A striking black and white decor is becoming a popular choice, and HomeThangs.com has introduced a guide to using it in just about any room in the home.
Bathroom
If there's one room that's really getting the black and white treatment a lot this year, it's the bathroom. Black counter tops are just as in vogue in the bathroom as they are in the kitchen, but even more daring options are becoming common, like ornate wallpaper, black grout on white tile, and even patterned upholstery and shower curtains – the more intricate the better. To test out this look on a smaller level, consider hanging black and white linens and installing a black toilet seat (another very popular trend this year).
Hallway
Hallways are probably the easiest place to try out a black and white decor. Hallways are transitional areas that are limited both in scope and visibility, which means they won't spill over into the surrounding décor, but can still have a pretty good payoff, as they see a lot of traffic. Hanging black and white photos or artwork in black frames creates a gorgeous display with inherent visual unity, and painting the outsides of doors or cabinets along the hallway can beautifully punctuate the space.
Entryway
Entryways are another ideal place to try out this look for a couple reasons. Like a hall or bathroom, it's a relatively small space, meaning it isn't quite as big an endeavor to pull off as it would be in a larger area like the kitchen or living room. It's also a good way to set an elegant tone for the rest of the house. A white staircase with black railing and steps, paired with dramatic accents like a black chandelier has a grand, sophisticated appearance that will elevate the style of the rest of the home, even if it's the only room done in black and white.
Kitchen
Last year, white kitchens were all the rage. But with the growing popularity of bolder, more colorful kitchens, the classic white kitchen needs a little extra something to keep pace. That's one of the reasons black counter tops are so popular this year: without changing anything else, it adds a stunning pop of contrast that will breathe new life into the whole kitchen. Add in black bar stools at the kitchen island, dark finished industrial lighting fixtures, and a few other dark accents to keep a white kitchen looking on trend.
Dining Room
Despite the trend toward bigger, more open kitchen floor plans, recently there's been a lot of renewed interest in the formal dining room – with a strong emphasis on formal. Unlike very casual kitchen tables used for family dining, dining rooms are getting the full designer treatment – high backed upholstered chairs, chandeliers, and lots of glitz and glam for the guests, all of which look even more stunning in a high contrast black and white.
Living Room
That said, a black and white decor also create a very clean, minimalist style. While a more avant-garde look emphasizes bold patterns and striking, unusual objects, a black and white living room with a European flair focus more on simple lines and more subtly eye-catching details set against a predominantly white backdrop. Together, this creates a crisp, clean, Nordic style that as a much more relaxed modern flair.
To see a few examples of some gorgeous black and white rooms, check out the full article here.
HomeThangs.com is not only a home improvement superstore, it also provides expert design tips and a comprehensive shopping guide, taking the ideas from professional interior designers, and offering tips to the consumers on how to pick the products to best suit their needs.