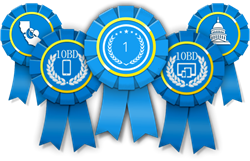 NYC, New York (PRWEB) June 06, 2014
10 Best Design (10BD) was born from a handful of active members of the web design community. They were developers, designers, and online marketers who had noticed rapid innovations in the potentials of modern web design, but had not seen such progress in the websites being built by web design businesses from around the country.
As a result, they quit their jobs and joined in their efforts to make sure that individuals and companies looking for web services could find top ranked design houses through their platform – 10 Best Design.
One innovation 10BD is excited to highlight is responsive web design, also known as RWD. RWD is a form of website development that utilizes a number of front-end layouts which are rendered from a single set of code. The design and layouts are effected by the width of the browser which is currently displaying the site, essentially allowing any single page to appear as if it was made specifically for the mobile, tablet, laptop, or desktop being used.
In other words, responsive web design allows for universal, cross-platform compatibility. Because of significance of this innovation, 10 Best Design sifted through its reviews, independent research, and other qualitative & quantitative statistics to generate a ranking of the Best Responsive Web Design Firms.
They included top 10 in this list, and the number one position went to Big Drop, a RWD company which is based in Manhattan, New York. Big Drop, named in several other 10BD awards, provides superior services, including single-page designs with animated scrolling, WordPress design, Drupal development and much more.
As a New York City web design agency, Big Drop has worked with a large number of both local and international clients. Although Big Drop is a premier web design firm with a talented staff which is prepared to handle projects of any size, they also enjoy working with start-ups and entrepreneurs who are just beginning their new business.
They can nurture a young company as it grows through a sophisticated online presence, and they can guide large or established firms looking to update their website or back-end.
10 Best Design's ranking for the top RWD companies also selected Blue Fountain Media as the #2 firm. BFM is one of the larger web services agencies around and has been providing amazing websites for many years.