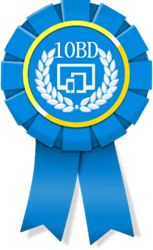 San Francisco, California (PRWEB) October 07, 2014
Responsive web design refers to a type of web design that focuses on creating websites that make viewing and surfing as easy and convenient as possible for site visitors. Companies that provide responsive web design services concentrate on making websites that don't require a lot of scrolling, panning and resizing, to name several examples. As far as responsive web design goes, the New York, New York-based firm Big Drop Inc. is ahead of the rest of the pack. 10 Best Design named Big Drop Inc. as number one on their list of the 10 finest responsive web design agencies out there, after all. The Midtown Manhattan firm is hailed for its vibrant and modern style of tackling mobile technology and Internet needs. Big Drop Inc.'s various specialties include both scripting and custom coding for webpages. They also offer convenient landing page optimization that allows website visitors to opt for either mobile or desktop versions of pages.
Blue Fountain Media comes in at a respectable second place on 10 Best Design's acclaimed list of the best responsive web design firms out there. The Big Apple company utilizes the newest CSS3 and HTML5 techniques to create customized sites that provide simple and streamlined responsive web design. Visitors to websites designed by Blue Fountain Media can have smooth experiences surfing websites on all kinds of platforms, from smartphones to desktop computers and beyond. The firm frequently employs compression methods that allow websites to easily handle all types of screen resolutions, as well.
Old City Press & Co. is number three on 10 Best Design's list. The Washington, D.C. firm offers web development and web design services. They concentrate on assisting their clients in establishing Internet presences that will enable them to increase their conversion rates. Old City Press achieves this goal by employing utilized responsive web design practices that entice potential customers via solid webpage content. Old City Press & Co. is notable for its top-notch graphic design and art expertise, too.
10 Best Design rounds out the rest of its list with an array of other highly established responsive web design agencies. These top RWD companies are the Creative Momentum, Huemor Designs, Kohactive, Forix Web Design, Hudson Horizons, Southern Web Group and Inflexion Interactive.