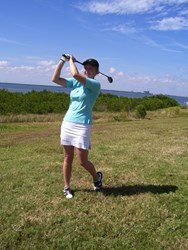 The New Sand Wedge by Black Magic Wedge, Available at http://www.blackmagicwedge.com.
Nationwide (PRWEB) August 28, 2013
In the short game, clubs that will get the ball up very fast are at a premium for so many shots.
There are many average players that struggle with all parts of the game and especially the short game. Shots from 5 yards to 30 yards clearly add way too many strokes to these players. Many players will use a club like a 7 iron when a sand wedge would be the best choice for a particular shot. These players have a very low confidence level with wedges for one reason or another.
In the short game, clubs that will get the ball up very fast are at a premium for so many shots. If you were to ask many average golfers what it would take for them to use a sand iron, the answer would be that they would want a wedge that would get the ball in the air very fast, even if they miss hit behind the ball. They would want a club that would not get stuck in the sand with bunker shots and a club that would eliminate the chance of shank shots. "The Black Magic line is exceptional, it gives everyday players the confidence to lower their score," a company spokesperson explained.
Watching the best players hitting unbelievable sand wedge shots is certainly exciting but these players have such great eye hand coordination that the average player can only dream about having that skill. "With the Black Magic hybrid wedges the average golfer can expect to amaze their golfing friends with some pretty exciting short game shots themselves", a spokesperson said.
The Black Magic hybrid sand wedge gives average players not only the confidence to be creative with the short game, which is essential to shooting lower scores, but also the ability to be more consistent with yardage on full shots. All of this is made possible because of their new design in a hybrid wedge that does not require that perfect pinch behind the ball.
The full line of Black Magic Wedges has made a big impression in the world of golf. With its sophistication and ultra-user friendly features, it makes a great addition to any bag. The clubs have also been recently reviewed and have received many positive endorsements by clubs pros.
ABOUT:
Blade Runner Golf, Inc. is a company devoted to the notion that a golfer's short game can make all the difference in his or her final score—but one can take their short game to the next level only if one has the right equipment. Black Magic's hybrid wedges Conform to USGA rules, but also helps golf enthusiasts find new precision and power as they make their way onto the putting green. Black Magic Wedge can be accessed on the web at: http://www.blackmagicwedge.com .
Contact:
Black Magic Wedge
2519 McMullen Booth Rd
Suite 510-129
Clearwater, FL 33761
Phone 727-726-5737
Toll Free 877-799-6099