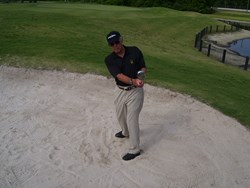 Several Industry Professionals Reveal their Choice for One of the Best Sand Wedge in the Game of Golf
Nationwide (PRWEB) September 30, 2013
"One reason these wedges are preferred is the zero degree bounce angle at impact, but as these wedges move through the shot they will ride on a continual bounce angle which keeps them from getting stuck in the sand or turf. Using no bounce golf wedges would not be effective for bunker shots," a spokesperson said.
One of the most difficult shots average players have with the short game is the bunker shot. Some of the problems related to bunker shots are that the sand varies from one bunker to another and with traditional type wedges players need to enter the sand approximately 2-1/2" behind the ball on the proper swing plane. If a golfer enters the sand too far behind the ball or has too steep of a swing they have little chance of getting the ball on the green.
"A true no bounce golf wedges may not be a good choice for amateur golfers especially with bunker shots. The continuous bounce angle on the Black Magic wedges allow players to enter the sand up to 8" or so behind the ball for great bunker shots even if the sand is very thin or thick. Also, the swing plane is not as critical because these wedges will not only slide easily over the sand but also eliminate the chance of shanking which is easy to do with bunker shots," a spokesperson stated.
"Being a short game specialist for many years I encourage my students to use a hybrid golf club and I always recommend the Black Magic Wedge when deciding on a hybrid golf wedge. When I teach they perform best for lob wedge shots and out of the sand shots. The design of the Black Magic wedge will help all golfers get their ball lob up faster and land softly. Very helpful in going over greenside hazards and to tight pin placements," Paul Sylvester, PGA Teaching Professional stated.
The decision between the best sand wedges for your game is very personal. One of the most important things a best sand wedge should possess is that it will give golfers the confidence to be creative with all parts of the short game because this is the biggest part of the golf game.
ABOUT:
Blade Runner Golf, Inc. is a company devoted to the notion that a golfer's short game can make all the difference in his or her final score—but you can take your short game to the next level only if you have the right equipment. Black Magic's hybrid wedges Conform to USGA rules, but also helps golf enthusiasts find new precision and power as they make their way onto the putting green. Black Magic Wedge can be accessed on the web at: http://www.blackmagicwedge.com.
Contact:
Black Magic Wedge
2519 McMullen Booth Rd
Suite 510-129
Clearwater, FL 33761
Phone 727-726-5737
Toll Free 877-799-6099