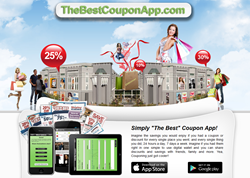 Imagine the savings you would enjoy if you had a coupon or discount for every single place you went, and every single thing you did, 24 hours a day, 7 days a week
Lindenhurst, NY (PRWEB) August 13, 2013
YellowPagesGoesGreen.org, a business directory web site at the forefront of the environmentally-conscious "Green" movement, is proud to announce the launch of 'The Best Coupon App' Yellow Pages Savings Tool for the iPhone.
The app allow users to take pictures of coupons so they can share them with friends and family much easier. Instead of using the paper coupon you can simply use your smart phone and display the coupon bar-code or picture at checkout.
"Imagine the savings you would enjoy if you had a coupon or discount for every single place you went, and every single thing you did, 24 hours a day, 7 days a week. Imagine if you had them right in one simple to use digital wallet and you could share these discounts and savings with friends, family and more. Yea, Couponing just got cooler!" said President Michael Keegan.
Developed by Yellow Pages Directory Inc, YellowPagesGoesGreen.org is a cutting-edge web site and alternative to print directories that delivers over 28.5 million up-to-the-minute listings of businesses throughout the United States; users can quickly, easily, and conveniently access the information they need to find the services and listings they want. In addition, YellowPagesGoesGreen.org also brings "people data" with its combination of WhitePagesGoesGreen.org, adding over 200,000,000 million residential telephone numbers in the United States.
YellowPagesGoesGreen.org allows users to add optional online coupons and printable discount offers attached to each business listing which also appear on the 'The Best Coupon App' Yellow Pages Savings Tool.
"Even though our App is fairly new, we need everyone to chip in and add coupons to our App, so people can share them and save money right away. As for now the App is best used to add coupons to your own digital wallet, so you don't have a pocket full of coupons to use at checkout. As time goes on, and people start sharing their coupons, this will be the best coupon App out there. If you're a business, all coupons from the http://www.YellowPagesGoesGreen.org web site will automatically appear in our App. We are very excited to see our database of coupons growing everyday. As more retailers become more comfortable using digital coupons, this App is a perfect way to making couponing easier and fun for everyone." Keegan added.
About Yellow Pages Directory Inc.,
YellowPagesGoesGreen.org and PaperlessPetition.org offer an environmentally-friendly Web-based alternative to paper telephone directories while providing a simple and convenient mechanism for customers to opt out from the receipt of printed yellow books. Both sites have been instrumental in promoting opt-out awareness across the United States over the past several years, and allowing users to reduce their own environmental footprints in the process. Yellow Pages Directory Inc. has also taken steps to reduce its own impact on the environment through the use of the most up-to-date and energy-efficient web-hosting services available.
For more information please visit http://www.thebestcouponapp.com/.