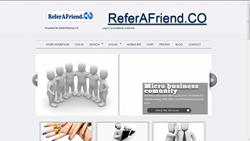 Our web based software is designed while keeping in mind the needs of micro business. The website helps customers manage their online appointments in a single web platform.
San Jose, CA (PRWEB) July 04, 2014
ReferAFriend.CO understands how difficult it is for small businesses to succeed in a market where big businesses haven't left too much of space for smaller ones to grow. They are now offering micro businesses like pilates, trainers, massage therapist hair and nail salon and many others a robust platform enabling them manage their customers, inventory and market their services to target and potential clients.
Talking about the web based software; in recent interview with one of ReferAFriend.CO founders he stated, "Our web based software is designed while keeping in mind the needs of micro business. The website helps customers manage their online appointments in a single web platform. Eliminating the need to hire graphic designer, development team and reducing the time to market from weeks to minutes. In addition if a business has space for more customers, need help to manages ones that they already have, wants mobile friendly website, reduce lates and cancellations by 30 percent, the website platform will help them achieve that efficiently and effectively."
Other than these, the web based software provides micro businesses all the features that are crucial for a business to thrive in modern day internet marketing. Apart from features that help customers mange business effectively, the software also enables businesses schedule events, send automated notification emails for events or for that matter book and pay for the events online.
The founder further told us, "We have planed and created the software keeping in mind the modern day marketing needs. Therefore, customers can use the option to publish their events to the social network, use other tools that are easy yet effective in lead generation thereby increasing the possibility of leads being converted into clients. All these measures enable a business to cover a long ground in the minimum possible time and gain instantly as compared to traditional marketing that was limited to yellow pages, mailing, print, door to door marketing, telemarketing, news papers as well as the word of mouth."
ReferAFriend.CO is so confident about the effectiveness of the software that it offers clients to use the software free of cost for the first three months on trial basis to check its efficacy. On the top of this, the company also gives its clients an option to cancel the services at any given day. The software also enables a business to schedule an appointment and is the best scheduling software online ever.
About ReferAFriend.CO
Based in San Jose the capital of silicon valley in California, ReferAFriend.CO is a web based software that aims to help micro businesses to not only make a mark in the modern day internet marketing but also enable them thrive at a pace which otherwise would not have been possible. The web based software has all the tools and offers highly expert and customized services to micro businesses that help them grow in a market where the big businesses have left little or no scope for small industries. The web based software that ReferAFriend.CO offers also connects businesses to their customers and enable them market their products and services too. Due to its expertise in offering small scale and new businesses efficient, effective and economic solutions to manage their inventory, customers, and business for better gains, ReferAFriend.CO is increasingly becoming one stop resource for many to seek guidance. ReferAFriend.CO also offers church membership management software. dance studio management software, yoga classes management software and personal training software .
Contact Details:
ReferAFriend.CO
San Jose, CA,
USA 95130
Phone: 18886599336
Email: CSR(at)ReferAFriend(dot)CO
Website: http://www.referafriend.co/