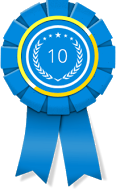 SAN FRANCISCO, Calif. (PRWEB) July 20, 2016
10 Best Design is pleased to announce the results of the best school web design firm award, with Blue Fountain Media heading the roster. This award acknowledges web design and development companies that provide learning institutions with excellent online marketing services.
Blue Fountain Media, the top school firm for July, earned praise for its consistency in providing clients with customized web design and development services that result in the production of spectacularly innovative websites. The professionals of Blue Fountain Media put this optimization process in motion by making strategically creative use of graphic design elements like color, background, templates, and icons. Additionally, the Blue Fountain Media team helps optimize the school's website through the use of responsive web design techniques that make it easy for people to access the pages via electronic device.
Big Drop Inc. is also among the best school web design firms that are known for offering incredibly effective, expedient marketing services to learning institutions. This firm thrives on developing websites that demonstrate the efficacy and exceptionalism of a learning institution in an innovative way. As such, the Big Drop Inc. techies work with dedication and persistence to develop website pages that stand out from the generic replicas that already populate the Internet. Additionally, the Big Drop Inc. professionals remain in constant contact with the people they serve to ensure that the client's needs and preferences always come first.
In its role as a top school firm, Finalsite has industry experts that work with speed and skill to cultivate interesting, informative websites that show clients the unique value and purpose of the client's school system. Additionally, the Finalsite professionals are skilled in utilizing diverse tools and resources to optimize the sites they design. This includes clever calls to action, share buttons, and responsive web design techniques. The Finalsite team members maintain a cutting-edge approach to the design and development process to ensure that the client's website appeals to contemporary audiences. School representatives who are interested in attaining brand-building web design and development services should contact the professionals of Finalsite.
For more information about these award-winning businesses, visit http://www.10bestdesign.com.