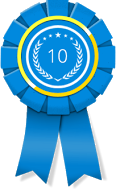 NEW YORK, N.Y. (PRWEB) August 31, 2016
For the month of August, 10 Best Design has named Blue Fountain Media the best school web design firm. The new monthly award emphasizes the top three leaders in this category, making it easier for companies to select a provider to assist with their design needs.
Schools need effective websites just like any other organization, but schools often don't know how to go about hiring a professional web design firm that specializes in school websites. A proper website can be a beacon for students to flock toward when they need information or advice. The true potential of an expertly-designed website cannot be ignored, which is why 10 Best Design has started a new monthly award program that ranks the best school web design firms.
The ranking experts at 10 Best Design use trusted algorithms to determine which web design firms are the best for creating school websites. They compare a pool of the potential winners and rank them based on certain specific metrics. The result is an updated list that gets released at the start of each month.
Blue Fountain Media is the best school web design firm for August of 2016 is Blue Fountain Media. They are more than capable of generating professional websites for any school, whether it be a university, high school, or elementary school. They take pride in their ability to craft stunning web-based platforms that function equally well on mobile devices. They know that a school website gets used on a daily basis, and they want to bring a higher level of intuition to those sites.
Big Drop Inc is another one of the top school business website producers for August of 2016. They understand the highly competitive nature of education, and they know that a fully-functioning and engaging website can make the difference between catching a prospective student's eye and diminishing their interest. Big Drop Inc also offers tune up services for schools who don't want to create a site from scratch, but instead wish to repair what they have.
Finalsite, the third place winner on the list for August of 2016, focuses solely on school website design. In its efforts to be a leading school web design firm, Finalsite, has worked with numerous organizations to produce premium content for schools of all varieties. Their goal is to create a web presence that completely reflects the institution for which it was created to serve.
To learn more about the award winners, visit http://www.10bestdesign.com.