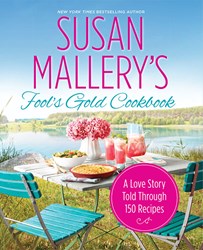 The Fool's Gold Cookbook will make a great Christmas gift for home cooks and for book lovers.
San Francisco, CA (PRWEB) August 22, 2013
New York Times and USA Today bestselling author Susan Mallery is proud to announce the release of her first cookbook, Susan Mallery's Fool's Gold Cookbook. On Mallery's website, SusanMallery.com, shoppers will find a coupon for $2.00 off the price of the cookbook, valid at participating retailers. Susan Mallery's Fool's Gold Cookbook is available wherever books and ebooks are sold, and features 150 sophisticated yet casual recipes, dozens of full color photographs, plus an exclusive romantic novella set in fictional Fool's Gold.
"I know most cookbooks don't come with a romance," Mallery says, "but they should. Love makes everything taste better. Writing romance is what I do best. I wrote this story as a gift to my longtime readers, and as a way for new readers to sample Fool's Gold."
The recipes are organized by season, with each section subdivided into everyday dishes and seasonal celebrations. Mallery classifies the recipes as "California casual cuisine," with a focus on fresh, available ingredients. A sampling of the recipes includes:
Appetizer Recipes
Toasted Ravioli Bites with Blue Cheese Dipping Sauce
Life-Changing Guacamole
Salad Recipes
Flank Steak with Balsamic Spinach Salad
BBQ Chicken Salad
Soup and Stew Recipes
Black Bean Soup with Lime Cream
Baked Potato Leek Soup
Main Dish Recipes
Almost-Perfect Garlicky Grilled Steaks
Simple Roast Chicken with Smashed Potatoes
Coconut Popcorn Shrimp with Mango-Lime Salsa
Dessert Recipes
Chocolate Caramel Pecan Tart
Lattice-Top Peach Pie
Susan Mallery's Fool's Gold Cookbook also offers breakfast recipes, side dish recipes, and seafood recipes – something for every taste.
"I'm extremely proud of this cookbook," Mallery says. "It will make a great Christmas gift for home cooks and for book lovers."
To learn more about Susan Mallery's Fool's Gold Cookbook, and to find free recipes online, visit SusanMallery.com.
About Susan Mallery:
With more than 25 million books sold worldwide, New York Times bestselling author Susan Mallery is known for creating characters who feel as real as the folks next door, and for putting them into emotional, often funny situations readers recognize from their own lives. Susan's books have made Booklist's Top 10 Romances list in four out of five consecutive years. RT Book Reviews says, "When it comes to heartfelt contemporary romance, Mallery is in a class by herself." With her popular, ongoing Fool's Gold series, Susan has reached new heights on the bestsellers lists and has won the hearts of countless new fans.
Susan grew up in southern California, moved so many times that her friends stopped writing her address in pen, and now has settled in Seattle with her husband and the most delightfully spoiled little dog who ever lived. Visit Susan online at http://www.SusanMallery.com.