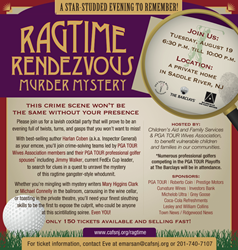 ...a unique and fantastic opportunity for golf enthusiasts and lovers of "Clue" alike to meet and mingle with the players and celebrity authors, in an intimate setting.
Saddle River, NJ (PRWEB) August 05, 2014
Children's Aid and Family Services and the PGA TOUR Wives Association will host an evening of mystery, suspense, food and fun at "Ragtime Rendezvous - A Murder Mystery Event." Best-selling author Harlan Coben will serve as the evening's emcee and fellow authors Mary Higgins Clark and Michael Connelly will be on hand to direct the evening's investigation.
Guests will join teams led by PGA TOUR Wives Association members and their professional golfer spouses, including Jimmy Walker, Scott Stallings, Chesson Hadley, Martin Flores, Charley Hoffman, Charles Howell, Graham DeLaet William McGirt, Brendon Todd, Kevin Streelman, Robert Garrigus and Billy Hurley who are in town participating in the The Barclays, a PGA TOUR FedEx Cup playoff event at Ridgewood Country Club.
Event sponsors confirmed to date are PGA TOUR, Roberto Coin, Prestige Motors, Curvature Wines, Investors Bank, Michelob ULTRA, Grey Goose, Coca-Cola Refreshments and Town News/Ridgewood News.
Ragtime Rendezvous - A Murder Mystery Event
DATE: Tuesday, August 19, 2014
TIME: 6:30 p.m. – 10:00 p.m.
PLACE: Private home in Saddle River, NJ
Tickets are limited to 150, and guests are encouraged to register as soon as possible. Ticket registration is available online at http://www.cafsnj.org/Ragtime. Please call Eve Marsan at 201-740-7107 for more information.
EXCERPT FROM THE EVENT INVITATION:
"This Crime Scene Won't Be the Same Without Your Presence
Please join us for a lavish cocktail party that will prove to be an evening full of twists, turns, and gasps that you won't want to miss!
With best-selling author Harlan Coben (a.k.a. Inspector General) as your emcee, you'll join crime-solving teams led by PGA TOUR Wives Association members and their PGA TOUR professional golfer spouses including Jimmy Walker, current FedEx Cup leader, to search for clues in a quest to unravel the mystery of this ragtime gangster-style whodunnit.
Whether you're mingling with mystery writers Mary Higgins Clark or Michael Connelly in the ballroom, carousing in the wine cellar, or toasting in the private theatre, you'll need your finest sleuthing skills to be the first to expose the culprit, who could be anyone at this scintillating soiree. Even YOU!"
About PGA TOUR Wives Association
In 2014, the PGA TOUR Wives Association celebrates its 26th anniversary as a not-for-profit organization, and continues its mission of supporting children and their families through charitable events. Comprised of wives and significant others of professional golfers on both the PGA TOUR and Web.com Tour, their charitable impact extends into communities where both tours are played. Association events have raised over $5 million since its inception, and have supported hundreds of children's charities and impacted thousands of children through fundraising and through volunteerism in communities hosting golf tournaments. For more information about the PGA TOUR Wives Association, visit their website at http://www.pgatourwives.org.
About Children's Aid and Family Services
Children's Aid and Family Services is a leading nonprofit human services organization serving northern New Jersey. The agency is fully accredited and has served the community for more than 110 years. Its mission is to preserve, protect, and when needed, provide families. Motivated by compassion and in partnership with the community, we make positive lasting differences in the lives of those we serve. We provide high quality, innovative services to children and their families that advance social, educational and emotional development and wellbeing. For more information on Children's Aid and Family Services, call 201.261.2800 or visit cafsnj.org.