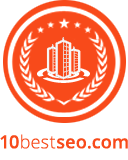 San Francisco, California (PRWEB) July 30, 2014
10 Best SEO, America's top online marketing website compiler, is proud to announce the top three firms that have been crowned the best Enterprise Search Marketing Optimization (SEO) firms of July 2014. Enterprise SEO (or Corporate SEO) is a brand proliferation method used by both national and multinational companies that guarantees visibility and generates visible awareness of their brands. As such, social media and increasing traffic searches are closely intertwined, leaving a new level of recognition and interest for the image that the company represents.
In descending order, here are the top three Enterprise SEO firms of July 2014:
3. Customer Magnetism (Virgnia Beach, VA): Allows enterprise-level corporations to market multiple products simultaneously an comprehensively, with data flow safety, efficiency, and viability of all campaigns for the ultimate benefits. With decades of experience and team dedication, Customer Magnetism focuses on major search engines, social media sites or top industry influences.
2. Blue Fountain Media (New York, NY): Offers multitudinous services for the top flight of industries, with a specialty in online high-quality results recognized by companies like The Washington Post, The Wall Street Journal and The New York Times. With a unique approach to search engine optimization, focus on finding the correct traffic and integrating them to its fold will radically increase the rate of success.
1. Boostability (Lehi, UT): Builds and maintains professional websites sales plans in order for businesses to have their advantage; in addition, business can use promotional tools and expertise to increase visibility within organic listings of the top search engines, social media presence, and mobile commerce and app creation.
About 10 Best SEO
10 Best SEO is a San Francisco, California company dedicated to researching and evaluating the country's best online marketing websites that are catalysts for change and progress. As the sister website to 10 Best Design and 10 Best PR, the company evaluates under seven distinct categories, updated throughout each month: Enterprise Search Engine Optimization (SEO), Local SEO, Global SEO, SEO Public Relations, Reputation Management, Social Media Marketing, and Overall Best Agencies.