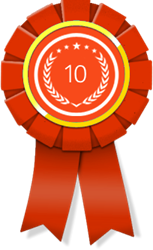 LOS ANGELES, Calif. (PRWEB) December 14, 2016
10 Best SEO recently selected the winners of its Best Los Angeles SEO Agency awards for December 2016, giving RankLab the top prize.
Search engine optimization is something that nearly every business can benefit from in this modern age of digital communication and technology. Even businesses that aren't strictly based in the digital marketplace must have some sort of presence online if they hope to attract the maximum amount of customers and general traffic. Search engine optimization, also called SEO, is just one aspect of the digital marketing field, and many firms are able to provide multiple services all within the same arena, but which firms are to be trusted? There are so many out there in the field that it is nearly impossible to determine which are the best.
10 Best SEO has decided to help the industry make these determinations by releasing monthly lists of the best firms in a number of different categories, including the best SEO firm. Their lists are released at the beginning of each month. The top three winners from this month's list are described below, and the rest of the top 10 winners can be reviewed online.
RankLab is the best SEO firm for December 2016, and their skills as an SEO firm are second-to-none. They are not only able to increase overall traffic and attention to any brand's online presence, but they can optimize how those platforms function in order to draw the most visibility. Not only that, but by increasing visibility in one area, they make it easier for other digital marketing services to be effective.
LA Fresh came in second on the list of top Los Angeles SEO businesses for December. LA Fresh is on the cutting-edge of digital marketing and Internet-based campaigning. They are adept at building impressive brand recognition, which, in turn, boosts profitability and overall customer conversion. They also ensure that social media channels are optimized and properly utilized.
Another top SEO agency, Websites Depot, took third place on the December list of winners. There are few digital marketing services that Websites Depot does not offer. They can provide stellar SEO services on top of their web development and design services, and their products are always optimized for creativity, engagement, cross compatibility, and general functionality.
For more information about the winners for December, visit http://www.10bestseo.com.