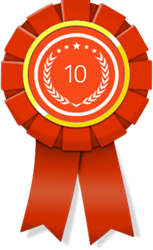 PHILADELPHIA, Penn. (PRWEB) November 19, 2015
10 Best SEO, a useful monthly service that ranks the top-performing SEO agencies, is pleased to announce its list of best SEO agencies for November 2015. The service helps businesses identify reputable SEO agencies for finding new clients.
SEO is important because the Internet allows businesses to connect directly with their customers. It is a cost-effective advertising channel, making it the right choice for small and medium sized businesses. Large companies are also shifting their marketing and advertising spend to digital.
Finding a reputable digital advertising agency is a difficult, time-consuming and frustrating process. 10 Best SEO devises evaluation criteria based on several quantitative and qualitative factors to determine the best SEO agencies. Using its recommendations, businesses can select an advertising agency that is suitable for their needs.
WebpageFX is a Philadelphia, Penn.-based SEO agency that tops the November 2015 list of best search engine optimization businesses. The top search engine optimization business performs extensive market and keyword research to improve business' search engine rankings. With two offices across the state of Pennsylvania, the company adopts a flexible and project-oriented organizational structure to keep costs low for its clients. It brings together professionals from web design, SEO and creative to execute stunning marketing campaigns. In addition to search marketing, the company also helps businesses in connecting with their customers across social media platforms, such as Facebook and Twitter.
Digital Current, a leading SEO agency located in Arizona, offers different online marketing services, such as search engine optimization, PPC ads, public relations, brand management, content promotion and lead conversion. The company boasts a number of prominent clients, including Print Lion, Nickelodeon and Farmer's Insurance. The agency also was voted as one of the Top 10 SEO Agencies in 2015 by Readz. Digital Current gets ranked as the second-best SEO agency by 10 Best SEO.
Social Fix, a top SEO agency based in New York, is another digital business that offers powerful online marketing solutions. It is a full-service agency that helps businesses focus on their core expertise while it takes care of marketing. Social Fix is an award-winning agency that conducts extensive market research to improve a website's search engine score. It serves clients from different parts of United States.