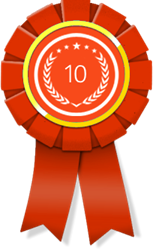 BALTIMORE, MD (PRWEB) October 16, 2017
Recently, 10 Best SEO issued three new Best Baltimore Web Design Firm awards for October 2017. The awards were given to Straight North, Dragonfly Digital Marketing and Fusion SEO, all of which are leaders in the field of online marketing.
Among other strengths, Straight North excels at search engine optimization (SEO), which has become a crucial component of a complete online marketing strategy these days. Being a leading SEO agency, Straight North recognizes that digital content needs to meet the requirements of search engine algorithms, Straight North provides the expert help that companies need in order to deliver content that is search-engine friendly as well as interesting to the potential customers who view that content and relevant to the company it represents. They take pride in delivering full support for all aspects of the digital marketing world.
Dragonfly Digital Media has delivered quality web services for over a decade, which is why it reigns as a top contender among the best Baltimore web design firms. As a full-service SEO and digital marketing firm, Dragonfly Digital Media has been recognized for their superb expertise in all aspect of the online industry. In addition to SEO, they also specialize in web analytics and social media marketing. Dragonfly especially focuses on supporting small businesses with the solutions they need to drive SEO traffic and improve their bottom line through such customizations as the use of physical locations, local street names, and Internet mapping technology.
Fusion SEO is top SEO agency that specializes in SEO marketing for a wide array of clientele. The award-winning, Baltimore-based agency focuses on helping companies grow their online presence through the use of e-commerce SEO and local business SEO. Fusion SEO uses geo targeting to increase search rankings for local businesses, thus helping these companies expand the reach of their brand. By using organic methods that produce lasting results, Fusion SEO is helping many of its customers increase and retain search engine visibility, thereby strengthening their revenue streams.
10 Best SEO is pleased to recognize each of these agencies with its new monthly. For more information, please visit http://www.10bestseo.com.