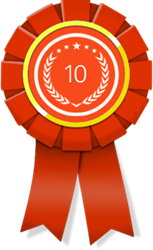 NEW YORK, N.Y. (PRWEB) April 27, 2017
10 Best SEO recently selected the April 2017 winners of its Best NYC SEO Agency award, with Youth Noise chosen as the top business in the industry.
There are numerous agencies out there that offer search engine optimization. SEO is one of the oldest and most efficient digital marketing tools, and it relates to making a web presence more findable in search results by letting them appear higher when a broader number of keywords or phrases are searched. New York City is one of the hubs of digital marketing in the world, and there are a number of local SEO agencies that operate within the city. How can brands that are looking for such an agency know which one are worth their time and budget? 10 Best SEO can easily address that question.
10 Best SEO uses complicated mathematical equations to determine which of the top industry leaders are ranked in the top ten positions, and the system uses metrics from each to determine their individual place in the rankings. The top ten winners for April 2017 have recently been announced, and they can be seen online. The top three winners are outlined in detail below.
Youth Noise is the best NYC SEO agency for April 2017. They focus solely on SEO, so they have honed the necessary portions of the service into the most comprehensive and effective techniques in the market. They are excellent at helping their clients gain a strong foothold in their target market, and they guarantee their results will not change as competitors advance in the field.
Another top SEO agency, SEO Image, placed second in the running for the best NYC SEO business for April 2017. SEO Image is a firm that has been awarded many distinctions in the industry for their quality and premium results. They offer more than just SEO, including pay-per-click marketing, social media marketing and management, and mobile SEO. They have been a leader in their field since they were founded in 2002.
There are few top NYC SEO businesses as adept as Hudson Integrated. They have the specific processes necessary to produce results, and they can help businesses ranging from startups to major corporations. Their skills are second-to-none, and they are more than capable of boosting the presence of any website in search results.
For more information about the winners of the award, please visit http://www.10bestseo.com.