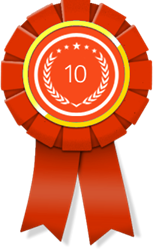 PHILADELPHIA, Penn. (PRWEB) August 20, 2015
10 Best SEO is a respected website that has just released its August 2015 list of the best SEO agency options. SEO, which stands for search engine optimization, is a technique that involves bettering search engine results for webpages, and it is an important aspect of online marketing. This makes 10 Best SEO's listing a critical resource for many businesses.
10 Best SEO selected WebpageFX in Philadelphia, Pennsylvania as the top online marketing business that specializes in SEO. WebpageFX caters to clients that want the perks of search engine optimization. They frequently provide their services to businesses that don't receive strong search engine rankings on the most popular search engines on the planet. While Google is a big priority for the WebpageFX team, they also concentrate on other prominent search engines on the Internet. Meta tag editing and content addition are two tried-and-true search engine optimization strategies that are frequently utilized by the staff at WebpageFX.
Leading SEO agency Digital Current is a full-service provider from Mesa, Arizona. Digital Current offers top-notch search engine optimization work to major brands, many of which are household names. Terminix, StubHub and Lowe's are just a few standout examples. While Digital frequently provides SEO assistance to massive brands, they also frequently do the same for small ones that many people don't know. Their range of clients is extremely diverse and broad.
Third on the list of best online marketing businesses is Boostability, a Lehi, Utah-based SEO firm that has an innovative, creative and ground-breaking team of online marketing professionals on its side. These marketing pros all work extremely hard to take their clients' web presence to the next levels. They accomplish this through a blend of diligent search engine optimization practices, link building and online reputation management. The search engine optimization aficionados at Boostability are all extremely talented in helping make brands much more noticeable on the Internet.
Although WebpageFX, Digital Current and Boostability were the first, second and third place winners on 10 Best SEO's awards list, the website also had several other skilled SEO agencies that deserved to be acknowledged. These agencies are San Francisco, California's EIGHT25Media; Virginia Beach, Virginia's Customer Magnetism; San Diego, California's Ignite Visibility; Houston, Texas' Drumbeat Marketing; New York, New York's SEO Image; Saddle Brook, New Jersey's Hudson Horizons; and Chicago, Illinois' Straight North. 10 Best SEO also gave honorable mentions to some firms, such as Austin, Texas' SearchRPM.