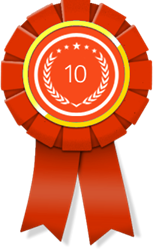 San Francisco, CA (PRWEB) March 14, 2016
10 Best SEO is proud to announce the winners of its new Best SEO Agency award for the month of March. The winners of this latest award are WebpageFX, Digital Current and Boostability.
The new monthly award was given after careful consideration to SEO agencies that have achieved a genuine level of excellence in the field of online marketing. These agencies not only offer outstanding SEO services to each client, but also have shown that they stand out from the crowd by having a unique approach to search engine optimization and online marketing in general. 10 Best SEO's team of online marketing experts is always on the lookout for the very best agencies in the industry.
Here are some details about the winners of the recent Best SEO Agency award.
Companies that need to hire the best search engine optimization business will be glad to find WebpageFX. As a top SEO agency, WebpageFX offers its services to businesses of all sizes, ranging from startups to large companies. They make online marketing work for their clients by ensuring that they will get maximum exposure on major search engines like Google and Bing. This is done by using SEO techniques that are adapted to the type of website the client has, ensuring that they get optimal results—regardless of the level of competition in their industry or the type of audience that they target.
Digital Current is also among the best search engine optimization businesses that were honored by 10 Best SEO for March. Digital Current gives their SEO clients the benefit of having a dedicated online marketing team working for them without the expense and hassle of hiring in-house staff. Digital Current can help websites receive a large increase in organic traffic, combined with better conversion rates. This means that businesses who use their services will see a very positive return on their investment. The SEO experts at Digital Current give each client a free SEO strategy consultation before starting any campaigns. This ensures that anyone using their services will know exactly what work is going to be performed for them and what kind of results they can expect in both the near and distant future.
Top SEO agency Boostability was also privileged to be recognized for the month of March. With Boostability's services, professional SEO is now accessible to everyone, even small local businesses. They have highly qualified and experienced online marketing experts that will use the latest in SEO techniques to improve the visibility that their clients have online and increase the number of people who pay attention to what they have to say.
For more information, visit http://www.10bestseo.com.