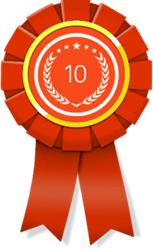 PHILADELPHIA, Penn. (PRWEB) January 25, 2016
10 Best SEO is proud to announce the results of its January 2016 Best Search Engine Optimization Firm (SEO) award, with the top honorees being WebpageFX, Digital Current and Boostability. This SEO award will become a monthly designation given to the companies that provide outstanding service in the SEO industry.
WebpageFX is the top SEO agency on 10 Best SEO's January list of illustrious companies. The company is located in Philadelphia, Pennsylvania, where it provides a variety of services. Digital Current of Mesa, Arizona took the number two spot among 10 Best SEO's ranking of best search engine optimization firms. Headquartered in Mesa, Arizona, Digital Current offers myriad solutions to assist clients with their SEO needs. Boostability, a leading SEO agency based in Lehi, Utah, landed at number three on 10 Best SEO's list for January.
Search engine optimization has been and continues to be one of the best ways to increase website exposure on the Internet. Dating back to the early years of the modern Internet, SEO has been used to help websites improve search engine rankings based on specific keywords and keyword phrases. The use of SEO has changed somewhat over the years because search engines have changed, search engine algorithms have changed, and Internet users have changed. However, the core principals of SEO have remained constant over the past few decades. Yes, there are modifications and adjustments made to accommodate the changes in the components concerning SEO, but SEO is still SEO. In an effort to highlight and showcase the best in the SEO industry, 10 Best SEO has given out SEO awards for several years. The organization's analytic review formula is implemented by a panel of experienced SEO professionals who know how to identify excellence in the field and wish to bring such excellence into the spotlight for consumers.
The websites running on the Internet today are much different than the websites that were operating 10 or 20 years ago. Today, the use of multi-media is common on websites large and small. Even though the technology changes throughout the years regarding websites, search engine optimization remains a constant force in helping websites receive high search engine rankings based on a variety of keywords and keyword phrases.
The best SEO firm is a great SEO award that shows a combination of great SEO skills, great management skills, and great customer service skills. The honorees in this category demonstrate a high level of SEO skills and expertise, and 10 Best SEO is proud to honor these SEO award winners. Many professionals and companies in the SEO industry go unrecognized. The hard work and sacrifice given by many of these professionals and companies should be applauded. This is one of the reasons why 10 Best SEO is pleased to honor the best in the SEO industry.