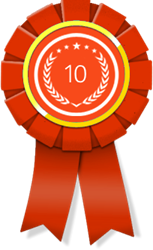 HOUSTON, Texas (PRWEB) February 18, 2016
Recently, 10 Best SEO has launched its Best SEO Agency award, making the world of Internet marketing more exciting than ever. This new monthly award draws attention to leading Houston, Texas-based SEO companies that have excelled in helping clients realize their online marketing goals. The top three contenders for the award are drumBeat Marketing, Hyperlinks Media and Web on Purpose.
A leading Houston SEO business, drumBeat Marketing tops 10 Best SEO's February list of companies. The company's techies specialize in putting together open-minded, open-ended online marketing campaigns that ensure no stone is left unturned in the quest to earn the client top search engine ranking. The representatives of drumBeat Marketing are skilled in utilizing a variety of optimization techniques to accomplish this objective. Moreover, they maintain a goal-centered outlook which enables them to strategize in a manner that precipitates profound results. Business owners who are interested in outshining competitors, optimizing connectivity, and enhancing conversion can benefit greatly from the professionals of this dynamic digital marketing firm!
Hyperlinks Media, another top SEO agency, also ranked high on 10 Best SEO's list of superior companies. Its marketing professionals are deeply passionate about offering cutting edge, comprehensive SEO services that earn the brand owner enviable ranking in the search engine results pages. Some of the SEO services provided include content marketing, link building, and keyword analysis. Additionally, the passionate professionals of Hyperlinks conduct extensive target market research to ensure that the brand owner's online platform is appealing and comparable to the interests of contemporary audiences.
Also on the list of best SEO agencies is Web on Purpose, a cutting-edge Houston-based SEO company that helps identify marketing challenges and subsequently provides the dynamic solutions that take brands from bland to brilliant. The company's techies are passionate about maintaining a client-centered approach that involves keeping the business owner in the driver seat of the entire marketing campaign. And as industry professionals who know the power of ranking, the SEO pundits use proven search engine optimization strategies to help business owners top the search results of major engines like Google.
For more information, visit http://www.10bestseo.com.