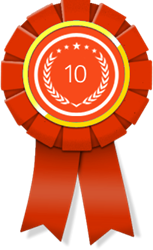 HOUSTON, Texas (PRWEB) August 31, 2016
10 Best SEO is pleased to present drumBeat Marketing as the winner of the Best Houston SEO Agency award for August 2016.
Every business in the modern world should have a web presence that matches their style and their real-world visibility. The best way to go about transforming a business from invisible to the center of online attention is to hire an SEO firm to perform their services for the brand. SEO, which stands for search engine optimization, is one of the most effective ways to increase brand recognition and boost search result rankings. There are so many SEO companies out there that it can be cumbersome to wade through them all. That's where 10 Best SEO can help.
10 Best SEO provides an updated ranking of the best SEO agencies each and every month. They award their rankings based on statistical analyses and overall efficiency portrayed by an SEO firm. Their system is based off a complex mathematical formula that accurately weighs the differences between the top SEO firms in existence. Three winners for August of 2016 have recently been announced, and they are outlined below.
drumBeat Marketing is the best SEO agency in the Houston area, according to 10 Best SEO's ranking for August 2016. They were initially established in 2007, and they have followed the beat of a different drum ever since. They believe in SEO strategies that work by fundamentally changing the website in question to better index within search results. Their techniques have been praised throughout the SEO industry, and they offer other online marketing services that are just as comprehensive.
Top Houston SEO agency Hyperlinks Media placed second for the month of August. SEO is just one branch of what Hyperlinks Media has to offer their clients, but their services are all equally stellar. They work closely with major search platforms like Google, Yahoo, and Bing, and they can bring a level of visibility to a brand that many business owners don't expect.
Web On Purpose also made the roster of leading Houston SEO agencies. This firm is comprised of several marketing industry experts who have made it their mission to help corporate businesses and other entrepreneurs thrive in the online marketplace. They not only provide some of the best SEO services in the United States, but they do so while simultaneously analyzing and perfecting their techniques as they go.
To learn more about the award winners, visit http://www.10bestseo.com.