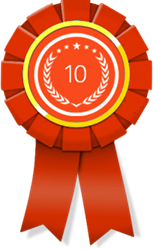 LOS ANGELES, Calif. (PRWEB) June 29, 2016
Innovative awards organization 10 Best SEO is excited to announce the award recipients for the top ten Los Angeles search engine optimization firms of June 2016. RankLab and LA Fresh are the top winners for this month.
10 Best PR is dedicated to showcasing top SEO agencies in the field of online marketing to assist business owners in finding the best SEO agency for their Internet presence. SEO companies named in 10 Best SEO's top ten list are selected using a wide range of qualitative and quantitative statistics and 10 Best SEO's proprietary algorithm. 10 Best SEO's award selection team is comprised of experienced professionals spanning the fields of online branding, web reputation, PPC, social media marketing and search engine optimization.
RankLab heads off the list of leading Los Angeles SEO agencies. RankLab is an innovative SEO agency that executes full-service SEO strategy, from research to iteration. RankLab prides itself on servicing a small number of clients in a highly personalized way, giving each client the customized focus of their talented and passionate team. Despite the fact that RankLab refuses to lock clients into lengthy contracts, they boast a nearly perfect client retention rate, which underscores the agency's worthiness of 10 Best SEO's award. Among their satisfied clients are 3M and The North Face.
Also representing the list of award recipients is top Los Angeles SEO agency LA Fresh. LA Fresh works with local, national and international clients across a variety of industries. Because the agency operates on the belief that every client is unique, they avoid cookie-cutter solutions to their client's SEO and marketing needs. LA Fresh provides premium SEO and marketing services and offers clients affordable month-to-month contracts paired with attentive customer service.
10 Best SEO is quickly becoming the go-to rankings directory for SEO agencies, providing valuable information to B-2-B consumers and setting an industry standard of quality. As part of its new SEO agency award program, 10 Best SEO plans to release a monthly top ten list, honoring top quality talent in online marketing and search engine optimization.
For more information about the recent award winners, please visit http://www.10bestseo.com.