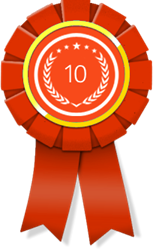 SAN FRANCISCO, Calif. (PRWEB) February 22, 2016
10 Best SEO recently unveiled the winners of its Best SEO Agency Award for San Francisco companies. This is a new award created by 10 Best SEO, and it is given out every month. The top three winners for February 2016 are Ipsum Total Marketing, Web Maketing and SevenAtoms.
As a premier San Francisco SEO firm, Ipsum Total Marketing has years of experience giving local companies and organizations SEO solutions that are adapted to their needs. They can create effective SEO plans that allow their clients to get noticed on search engines for keywords used by their customers. Ipsum Total Marketing works with a highly diverse range of clients across all industries and offers quality SEO services, whether their client is a local business with a retail location or an e-commerce site that sells globally.
Top SEO agency Web Marketing was founded by a group of online advertising professionals with a shared goal: taking the online visibility of their clients to the next level. They make use of the latest advancements and discoveries in SEO to bring their clients to the front page of search results and keep them there. As a full-service online marketing firm, they provide additional services such as web content creation and website design.
SevenAtoms uses the principle of attraction in all SEO campaigns that they create for their clients, which is partly why it made the list of leading San Francisco SEO firms. Their highly successful approach involves creating quality content on blogs, social media and landing pages that catch the attention of both search engines and human visitors. SevenAtoms wants their clients to not only get an increase in visitors from organic search results, but also to obtain better conversion rates.
10 Best SEO is a San Francisco-based company that has a team of online marketing experts working tirelessly to find the best providers of SEO services. Their awards are given to firms that have shown a commitment to excellence in the field of search engine optimization. In order to be considered, each firm must consistently provide quality SEO services to their clients, show that they are capable of achieving measurable results and use ethical long-term SEO techniques.
For more information, visit http://www.10bestseo.com.