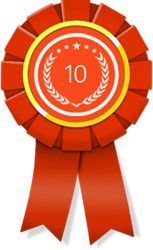 San Francisco, CA (PRWEB) October 29, 2015
Respected awards website 10 Best SEO recently shared its October 2015 winners of the Best SEO Agency awards. The top winners for this month are Ipsum Total Marketing, Web Marketing 123 and SevenAtoms.
The winners of the prestigious 10 Best SEO awards have proven themselves as distinctive among their peers, having the talent and experience necessary to deliver concrete results to businesses who depend on online results for their success. 10 Best SEO scours the SEO industry, looking for the agencies that provide clients with the best SEO services. As part of the vetting process 10 Best SEO staffers spend hours learning about players in the SEO marketplace. This service to the online community helps companies choose SEO providers that meet their requirements.
Online businesses depend on search engines to deliver paying customers. An entire industry serves businesses, helping them to earn top placement in search engine result pages. With thousands of companies vying for SEO dollars, online businesses don't know who to trust or where to start a search for a company that delivers upon its claims. That's where 10 Best SEO comes in. Winners of its recent Best SEO Agency award include some of the best and most trustworthy names in the SEO industry.
Of all the San Francisco SEO companies, Ipsum Total Marketing, earned recognition as the Best SEO agency. The company received high marks for its proven SEO solution that has delivered success to more than 2,000 clients that include small to mid-sized businesses and large corporations. Skills in HTML5, JavaScript, and MySQL have helped the company produce customized results that match the goals of their clients.
The second-place winner, Web Marketing 123 of Emeryville, CA, has built a reputation by delivering quality results. Companies seeking an enhanced Web presence have relied on the link-building and reputation management skills of Web Marketing 123 to rise to the top of search engine results. Being a top SEO agency, Web Marketing 123 has proprietary systems that it uses on behalf of clients to ensure they receive the search-engine traffic they need to thrive.
Another California-based leading SEO firm, SevenAtoms, took the third-place award. This company distinguishes itself by using multiple digital marketing tactics in a single, coherent strategy that creates synergy in its results. Clients of SevenAtoms rank among some of the most profitable online businesses. The company's innovative approach to SEO has earned it the right to this award.
To learn more about the winners of this year's awards, or to learn how your SEO company can participate in the awards process, visit http://10bestseo.com.